Note: This post is sponsored by PetSmart, and the BlogPaws Professional Pet Blogger Network. I am being compensated for helping spread the word about Dental Health Month, but at SparkleCat.com, we only shares information we feel is relevant to our readers. PetSmart is not responsible for the content of this article.
I'm on a mission today! Can you see where my human and I are shopping?
That's right, PetSmart®! We are shopping for dental treats today. Did you know that February is Pet Dental Health Month? And my human is a stickler about dental health. She flosses and will brush her teeth for several minutes at a time, because she knows that the health of your mouth makes a big difference in your overall health. And you know what? The same thing goes for us kitties too.
According to Tufts University, 70% of cats show signs of dental disease by the time they are three, which is a young adult in human years! And when a cat's mouth is inflamed, bacteria enters her bloodstream and if untreated, it can eventually damage her kidneys, liver and heart. So things like plaque, tartar and gingivitis aren't just dental problems — they can harm your cat's overall health in the longterm. It is frustrating to me that more humans don't consider that.
My human does brush my teeth, although she doesn't do it daily like she should (and certainly does with her own teeth!). She is trying to get better about that, but at least her heart is in the right place when it comes to treats. She buys dental treats for us that help reduce tartar and today we are buying my favorites!
Feline Greenies Dental Treats! Did you know that Feline Greenies are the #1 veterinarian recommended cat dental treat? Of course, you know I'm more interested in the taste — and Greenies are awesome! I love the crunch too, and actually that is supposed to help reduce tartar. Plus they are only 1.25 calories each and I have to watch my figure for the cat shows.
I did not stay in that shopping cart for long! My human let me down so I could help her look for the Greenies.
I found them, but I was a little bummed — and you can see why:
They were up on a pair of high shelves and I couldn't get to them. It's a good thing my human was there to grab one of the catnip flavor bags.
But I was in luck! I found a whole display of Greenies that were perfectly cat height. So I got to choose another package.
I bet you guessed — I chose the chicken!
As a reward for all my help, I got to have some Greenies right in the parking lot!
I hope my human got enough of these!
Binga and Boodie love them too!
Remember, dental treats are just one part of keeping your kitties' teeth healthy! Always make sure your vet checks out your cats teeth and gums at every regular check up.
* * *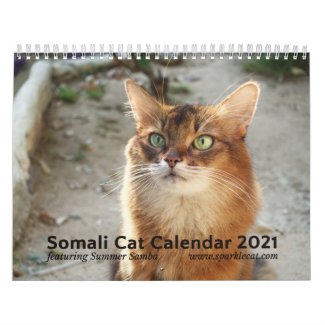 2021 Somali Cat Wall Calendar, Starring Summer
See all of Summer's merch at her
her Zazzle Designercat Shop