You are probably as thrilled as I am to know that the TCFKAB (The Cat Formerly Known As Bubba) who I wrote about last week has already arrived at his new home in Illinois. The human who adopted him wound up driving over 7 hours, each way, to fetch him and bring home. He has a new name too, Simon (his human was smart and let him pick it out himself), and you can read more about his story in his blog post. There is even a video of him — I would have posted it here, but below the video, there is an important message about three cats in need!
As I mentioned before, Simon is one of the lucky few. Usually the stories end more like two out of the three sad mothers and kittens here. In fact, these families were a little better off than most, because someone cared enough to post about them and give them a chance. Then more people spread the word on Facebook and elsewhere. (Yes, I put up a post on my Facebook page too.) But posting and spreading the word isn't enough because someone has to step forward and actually do something. Unless someone from a Georgia-licensed rescue showed up first thing in the morning today, these mothers and kittens were euthanized, killed because it's kitten season and there's no room for them and no one to adopt them.
But this doesn't just happen in June, of course — it happens year round, every day. That's why it's important for humans to spay and neuter their cats and take responsibility for them. In spite of what the law says, we are not merely possessions — we are living creatures who can't just be tossed away when we become inconvenient. When you invite a kitty into your life, it's a responsibility that is not to be taken lightly. Spay and neuter your cats to stop filling shelters with unwanted kittens. Educate others to do the same. Work on making the U.S. a no-kill nation. Encourage people to adopt shelter cats when you can. Out there, some kitty's life is depending on you.
If you were one of the lucky shelter cats who found a home, remember to enter my contest — the deadline is Tuesday, June 15 at midnight (that's tomorrow!). Click here to find out more.
* * *
---
---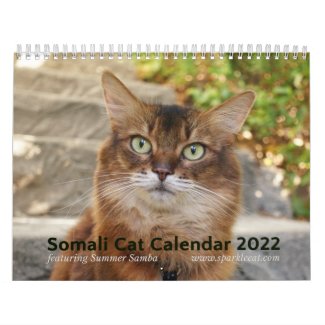 2022 Somali Cat Calendar Starring Summer Samba
See all of Summer's merch at her
her Zazzle Designercat Shop