I meet all sorts of people, especially at hospitals, and can you believe that some of them know nothing about kitties? Like I'll do some typical cat behavior, and they'll wonder why, or they'll be startled. I thought it would be fun to put together a list of common things cats do (that most of my readers are very familiar with) that surprise people who don't usually hang around cats.
Elevator Butt. People pat me on that awesome part of my back end where my tail meets my body, and I immediately raise both my tail and behind. That's because it feels so good! A lot of people think it is strange. Actually not all cats do it. Binga doesn't, although she will stand up on her tippy toes. But I'll raise my behind almost always.
Ear Flicking. This is the opposite of the pleasurable elevator butt move. Sometimes when people go to pet me on the head, they graze my one of my ears and I'll flick it. If they aren't used to cats, this scares them, and they may pull their hand away. It's not that big of a deal, really. Most cats don't like their ears being touched, so it's just a reflex to flick them. Sometimes a cat will pull her ears back just a little so that they don't get touched unexpectedly. I don't, so they are often in the way when people pet me.
Happy Paws. Some people call it "making biscuits," but I prefer happy paws because that's a more accurate description of what's going on. I do my little happy paws massage when I'm busy with therapy cat work at a hospital. I'll lie next to a bedridden patient, purr, and make happy paws. It almost always helps the sick human feel better. Most cats make happy paws when they are lying with their own humans and are totally content and comfortable. Almost the only time I do them is with a patient.
Face Rubs. Most people instinctively understand that a face rub is a friendly greeting. That's all they need to know, really. They don't have to know the secret part, that I'm marking them with my scent. I do like mingling my scent with humans, and yes, it's a friendly thing. It's not really a possessive thing when it's with a stranger.
Flopping. I do this all the time at cat shows when I want to sack out. I'll go into my enclosure and flop down on the bed. When I do this, it means I'll still welcome pets and visits, especially if I turn upside down and expose my belly. If I just curl up and don't flop, it means I would prefer to nap undisturbed for a little bit.
Welcoming Belly Rubs. The more experienced cat people are the ones who are the most surprised by this, because they've usually dealt with cats (often their own) who latch onto them with the Claws of Doom when a human touches their belly. I love having my belly rubbed. It actually runs in the family. My half-brother Decker, who lives in Denmark now, really enjoyed having my human rub his belly. My nephew, Crazy Louie, on the other hand, gets a little over stimulated, but that is because he is such a nut!
Kitty Kisses. If a human (usually a patient) is really, really lucky, I will give them a lick. A cat licking you is more special than when a dog does it, but people often don't realize it. For dogs, licking is their most common sign of friendliness. Cats usually don't do it, so it means something special when a kitty licks you. Binga and Crazy Louie give kitty kisses often. I only do it on very rare occasions. So if you ever meet me and I give you a lick, know that I really like you a lot! Or that you had something tasty for lunch.
Bonus cat behavior for really inexperienced humans: Purrs mean we're happy. We are not growling!
Are there any cat behaviors that mystify you?
* * *
---
---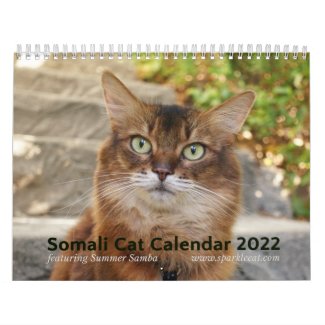 2022 Somali Cat Calendar Starring Summer Samba
See all of Summer's merch at her
her Zazzle Designercat Shop