November is Adopt a Senior Pet Month, and while giving a home to a senior cat is a very good thing, you need to understand what you are getting into! There are myths being spread around about senior cats, and I thought the best cat to address these untruths is Binga, who is 14. She knows the most about this.
MYTH: Senior cats are more mature, and less likely to get into trouble than a rambunctious kitten. FALSE!
TRUTH: Senior cats get into better trouble than kittens because they have more experience. For example, a dumb kitten is more likely to cause a racket when she jumps on the kitchen counter. A senior cat already knows she needs to be stealthier if she wants to lick those dirty plates.
MYTH: Senior cats spend all their time napping. FALSE!
TRUTH: Senior cats who nap a lot do it because they have boring humans who don't think they need to play. You get a senior cat, you load up on cat toys like any other cat! Have you ever seen a 70-year-old human leap up to a second story balcony? Of course not! But a cat that is 70 in cat years makes that type of jump (adjusted for size) all the time. Don't be boring. Play with your senior cat.
MYTH: Senior cats are already familiar with house "rules" like not scratching furniture, whapping ankles from under the bed and other human-created "infractions." FALSE!
TRUTH: Senior cats have had enough time to learn how to work around the rules and they are usually smarter than most humans.
MYTH: Senior cats understand they are being rescued, and are more grateful. FALSE!
TRUTH: Senior cats have become crafty with age. If they are acting humble it is to trick humans into not realizing they are being dominated. Then there are some senior cats who don't even bother pretending and just take over.
MYTH: It is harder for rescues and shelters to find homes for senior cats, and sadly, many senior cats die without ever getting adopted.
Actually, this one is true, which is why you need to adopt a smart, active, trouble-making senior cat right now!
* * *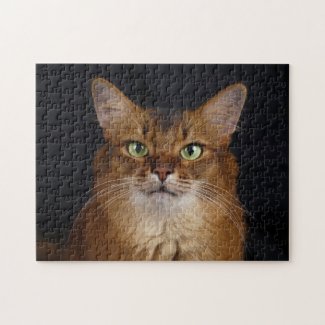 Somali Cat Photo Portrait Jigsaw Puzzle
See all of Summer's merch at her
her Zazzle Designercat Shop