Disclosure: This post contains a few Etsy affiliate links, and I will get a small commission if you click through and place an order.
While everyone is drinking green beverages and celebrating that St. Patrick human, hardly anyone acknowledges that this is also the day of St. Gertrude, the patron saint of cats. Even a lot of kitties forget about it! But I haven't, so I will share a few quick facts about our very own saint.
Gertrude of Nivelles lived from 626 to 659.
She was born into a noble family, but at the age of 10 rejected the idea of marriage for a life devoted to Christ.
After the death of her father, Gertrude and her mother founded a monastery in Nivelles, Belgium.
Gertrude was known for her hospitality, and her devotion to good works.
Saint Gertrude is also the patron saint of travelers, gardeners, and the mentally ill.
St. Gertrude was actually not directly associated with cats until the 1980s, when it was mentioned in a catalog from the Museum of Modern Art. Before that, she was indirectly associated with cats because of her power against rats — cats were assumed to be part of this power. Since the 1980s, her feline connection has grown more popular. While the Vatican hasn't made the patronage official, it's often tradition, and not the church, that ultimately recognizes many patronages.
These days, you can find images of St. Gertrude with cats pretty easily. I found a few items on Etsy you may want to check out. (Maybe a St. Gertrude medal would be good for a traveling kitty like me!)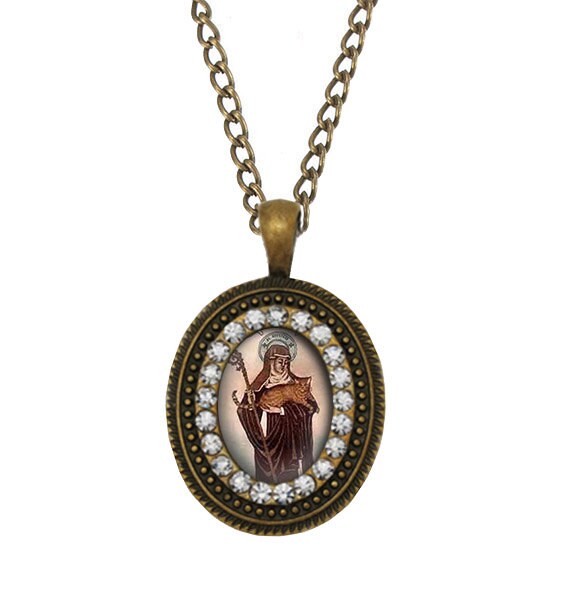 St. Gertrude of Nivelles Pendant
The nickel-free bronze bezel pendant with rhinestones is 1-1/8″x1″ and is on a 17″ chain. It ships from Israel and has a cool, vintage feel.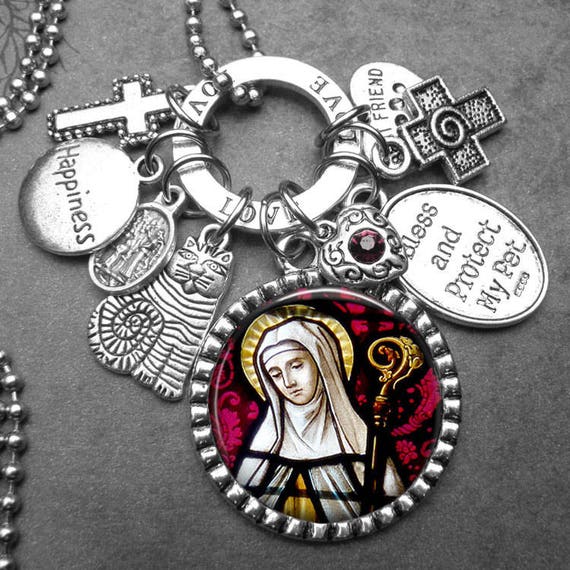 St. Gertrude Holy Medal and Multi Charm Necklace
This holy medal of St. Gertrude is surrounded by silver charms that include a cat, a small St. Francis "Protect My Pet" holy medal, heart with garnet crystal, and several other pretty and symbolic zinc alloy charms. It's on a stainless steel ball chain and really enchanting! Ships from the U.S.
St. Gertrude and Cat — 8″x8″ Matted Print
This cute folk art rendition of St. Gertrude and an orange tabby comes with a muted gold or dusty rose mat. Ships from the U.S.
I hope you enjoyed my post about Saint Gertrude, and my Etsy picks!
* * *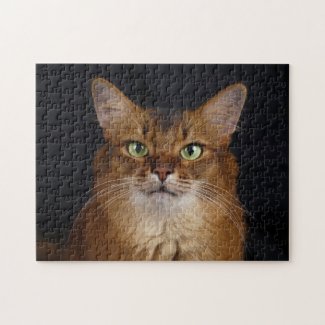 Somali Cat Photo Portrait Jigsaw Puzzle
See all of Summer's merch at her
her Zazzle Designercat Shop