Remember Me Thursday is going into its seventh year of bringing awareness to shelter pets.
This day was founded by Mike Arms, the president and CEO of Helen Woodward Animal Center. He wanted to shine a light on shelter animals and their plight. Even now, in spite of efforts to create a "no kill nation" in the U.S., way too many of them end their lives before finding a family of their own. Remember Me Thursday invites you to light a candle to remember those pets who lost their lives in shelters. Remember them so they won't have died in vain.
Of course, everyone who comes to this blog knows about our shelter rescue, Binga, who came to live with my human 19 years ago in October, and who we lost last June. This is how small she was when she first came home:
Even back then, she was feisty and full of tortitude. She grew up thinking she was in charge of everything… and she pretty much was. The last few years of her life, she learned how to walk on a leash (something she picked up by watching me do it).
Binga was one of the lucky shelter cats that found a lifetime home.
Here are some statistics about shelter cats and cat ownership for you, from the Animal Sheltering website. I think it shows you what needs to be done to help.
Percentage of cats adopted from a shelter or rescue: 37%
Percentage of cats taken in as strays: 32%
Percentage of cats acquired from friends and relatives: 26%
Percentage of cats purchased from a breeder: 4%
Percentage of cats bought from a pet store: 1%
As you can see, the percentage of cats from friends, relatives, or taken in as strays is 58%. As you can probably deduce, most of these cats came from parents that should have been spayed or neutered — but weren't. Shelter cat adoption is suffering, literally, because of the need to spay and neuter cats. (In case you are wondering, it's different for dogs — a full 25% of them are purchased from breeders and 25% come from friends and relatives. So spaying and neutering is still an issue, but it's also important to let people know that mixed breed shelter dogs make good pets.)
The more we can educate people about shelter pets — that these orphan animals deserve good homes and make awesome family members — the more that will find homes. So please spread the word… and rescue a new family member or two!
Visit the Remember Me Thursday website.
* * *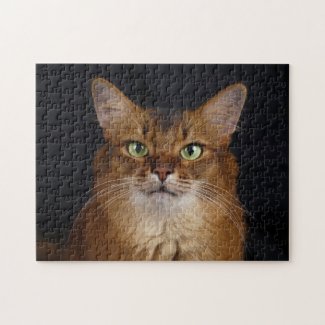 Somali Cat Photo Portrait Jigsaw Puzzle
See all of Summer's merch at her
her Zazzle Designercat Shop