Humans are always so envious of us kitties when they see us napping. And it's true — we do have a special talent for making ourselves comfortable and falling asleep whenever we feel like it. You think we make relaxing look easy. The truth is, it is easy! It's you humans who make it difficult. So I thought I would offer you three simple tips so you can relax like a cat.
Stretch
Your cat stretches frequently. In fact, we are almost as famous for stretching as we are napping. But humans don't spend enough time stretching. That's why you are all so tense. Because you've neglected stretching, your bodies have forgotten how to relax! So start stretching. All the time. Not just when you get up (although stretching when you wake up is important). All throughout the day, and especially if you haven't moved for an hour. Stretching is a nice prelude to relaxing.
Breathe
Have you ever watched your cat breathing? She takes in full body breaths, and seems to relax even deeper with each inhale and exhale. It's relaxing to watch. Learn to breathe like a cat — full body, taking in air from the tips of your toes, and full, slow exhales without forcing. In fact, one of the best and easiest ways to relieve stress or anxiety to take full deep breaths. Deep breathing, along with stretching, is something humans should do throughout the day, not just once in a while.
Feel Comfortable in Your Own Body
This one may be the most difficult for humans to grasp. Society and the media have done everything to make people not feel comfortable in their own bodies. With unrealistic standards and size judgments that get internalized, it's easy to be unhappy with what you see in the mirror. We cats are lucky in that we've never had to deal with this. We accept ourselves as we are, whether we're lean, round, or missing a limb. We don't judge other cats for their appearances. In fact, we don't judge people either for their looks. Feeling comfortable in your own body is one of the best things humans can do for themselves. Even though it will take something of an un-learning curve, work on it every day.
These three tips are the most important, and here's one more bonus
Find a Comfortable Place to Relax
Cats can relax anywhere, but we usually prefer something comfortable and that offers a nice sun puddle to lie in. A cool plant bed is nice too. The bottom line is we pay attention to little details in our napping spots that help us to relax. You should too. But even if you can't find the ideal place, if you follow the first three steps, you will be able to relax where ever you are.
Did you find these tips helpful? Let me know in the comments.
Other posts you'll enjoy:
* * *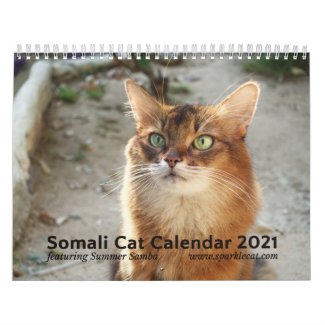 2021 Somali Cat Wall Calendar, Starring Summer
See all of Summer's merch at her
her Zazzle Designercat Shop