I've got a little secret for you kitties. It is just between you and me, so please cover your humans' eyes so they cannot see this post.
Many of your humans have talked about this being that goes by several different names: Santa Claus, Santa Paws, Sandy Claws, etc. I am not even sure if it is a human or a cat, male or female. And your humans are always telling you to be good kitties or this being will not bring you presents. Well, guess what? We kitties are born good! So we don't have to be good — we already are. We have earned those presents by the very fact that we are here!
So instead of fretting over being good for the holidays, kitties, enjoy yourselves by showing your humans just how good you are! Here are some suggestions:
1. Show how good you are at stalking by catching the biggest bug you can find and leaving it on the kitchen counter, where the humans prepare all their prey.
2. Display your good balance by walking on narrow surfaces such as mantles, the tops of doors, banisters and such. When the humans yell, "Get down!" show them how good you are at pretending to be deaf.
3. Prove you are good at being resourceful by locating the drawer where the treats are, opening it up, and taking as many treats as you want!
4. We cats are good at entertaining ourselves, so show that off by playing with anything you can get your paws on — pens, computer mice, toothbrushes, knickknacks, etc.
5. And especially show how good you are at celebrating the holidays by making the Christmas tree your second home, and batting around all those inviting, glittery ornaments. Get Christmas day started early by racing around the house and attacking the presents — exercise is something we kitties are good at too!
So remember, no matter how you spend the holidays, it's all good!
* * *
---
---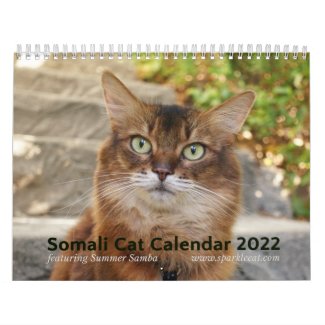 2022 Somali Cat Calendar Starring Summer Samba
See all of Summer's merch at her
her Zazzle Designercat Shop