While my human was researching for a story, she ran across this article about the 13 best jobs for cat people. Well, I took a look at this list, and I have to say it is sorely lacking! The jobs here include things like court reporters, film editors (which incidentally my human did a couple of decades ago), astronomer and software developer. You tell me: exactly what do any of these jobs do to promote the wellbeing of us kitties? Because you know, if humans are cat lovers, then they should be spending quality time working at jobs that help us! So I've decided to make up my own list of jobs for cat people. I don't know how they fit in with cat people personality traits, but they all match up with the most important one: they love us cats.*
Buyer
This job would involve doing extensive research into different cat products, from food to cat litter to toys, and creating proprietary methods for figuring out exactly the right items for one particular cat household — the one their cats live in.
Cat Tree Manufacturer
This job is perfect for imaginative humans who enjoy crafting on a large scale. The right cat lover for the job would be good at measuring, cutting wood and carpet, and working with other materials that go into making cat trees. An engineering background is important, to make sure the cat trees are sturdy and work the way they should.
Cat Toy Maker
Humans who can't create on a big scale often excel on a smaller level with cat toys. This is the perfect job for cat lovers who are very creative and have a sense of fun. A good cat toy maker will be able to fashion toys that boggle the feline mind!
Catnip Grower
A human with a green thumb could preside over acres and acres of nip, overseeing its growth and making sure the plants get the proper nutrients to ensure high potency, both fresh out of the garden and dried.
Valet
This important job involves making sure that a cat's every need is attended to. Grooming, proper food preparation, frequent applications of petting and skritches, turn-down cat bed service and everything else that goes into keeping kitties happy — the valet must manage all of it, and perform each duty with an extreme attention to detail.
Lobbyist
This human must brave the jungle known as The Hill and fight for feline rights! Legislators keep coming up with laws that could potentially harm cats, and it is the lobbyist's job to make sure these laws never see the light of day.
* Not all jobs are salaried positions, and some only pay in purrs. But does that really matter? A job well done should be its own reward.
* * *
---
---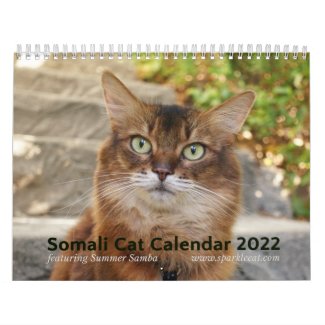 2022 Somali Cat Calendar Starring Summer Samba
See all of Summer's merch at her
her Zazzle Designercat Shop