How well can you humans read kitty facial expressions? I decided to put together a simple quiz to find out. I had my human grab ten random photos from the past year, crop them so you just see my face — and you have to tell me if I was purring or not purring! Sounds easy, right? I bet none of you get 100%!
Purring or Not Purring?
Congratulations - you have completed Purring or Not Purring?.
You scored %%SCORE%% out of %%TOTAL%%.
Your performance has been rated as %%RATING%%
Your answers are highlighted below.
Once you are finished, click the button below. Any items you have not completed will be marked incorrect.
There are 10 questions to complete.
* * *
---
---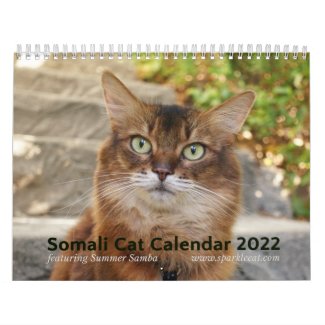 2022 Somali Cat Calendar Starring Summer Samba
See all of Summer's merch at her
her Zazzle Designercat Shop