I've mentioned many times that my human has the blackest of black thumbs. According to Binga and Boodie, cat grass has never lasted long here, and not because they chew it to death (although they do love it). It's my human! All she has to do is look at vegetation and it withers and dies. But I think we've found a solution to the pet grass problem that will even stand up to my human's evil plant eye.
Before I continue, however, let me mention the inevitable disclaimer:
This post is sponsored by Pet Grass and the BlogPaws Professional Pet Blogger Network. I am being compensated for helping create awareness about the launch of Whisker Greens but sparklecat.com only shares information we feel is relevant to our readers. Pet Grass is not responsible for the content of this article.
There! The great thing about Whisker Greens™ from Pet Grass® is that it arrives fresh to your doorstep, fully grown and ready for munching. It's the good stuff too: wholesome organic wheatgrass, grown in real soil to soak up rich nutrients. The Whisker Greens humans do all the stuff that my human just can't seem to get the hang of: they start with 100% certified organic seed, plant it by hand, then rotate the containers through their greenhouses so they get just the right amount of water and sunlight. Then, when they have reached the best growth stage, they ship it out to you. It's nearly foolproof, as our experience has proven.
The three containers come in a resealable pouch; just take out however many you need and put the rest in the refrigerator. They say the pet grass lasts two weeks in fridge, but that seems to be a conservative estimate. We got our package of Whisker Greens right before my human and I had to travel to Livermore for my cat show the first week in November. So my human refrigerated it until we came back to do the photo shoot. The remaining two containers were sealed back up and returned to the refrigerator — and it's a little over two weeks later and they are still doing well!
The containers are your standard black plastic planters, but the package comes with these more decorative covers. Your human just makes sure to water the Whisker Greens container a couple of times a week to keep it fresh and growing. Even my human was able to do that!
While we kitties are obligate carnivores, lots of us like to chew grass. It has fiber and it aids in digestion, plus it's loaded with vitamins and micronutrients. It's a nice add-on to our mostly-meat diet.
Want to give Whisker Greens a try? You can purchase a three-pack for $24.99. There's also a Pet Grass subscription service for $22.49 per delivery — you decide how often you'd like to get it: weekly, every two weeks, every three weeks or monthly. From our experience, Whisker Greens are healthier and last longer than the usual store bought cat grass, and we were pretty impressed with this product. If you want to see how a one-time purchase does for you, you can get a 10% discount on that with the code sparkle10 at checkout.
I can't wait to post how much we kitties here enjoyed our Whisker Greens! I'll have a video for you soon. Can you figure out which of us was the biggest Whisker Greens muncher? Take a guess in the comments and I'll let you know next time who it was!
* * *
---
---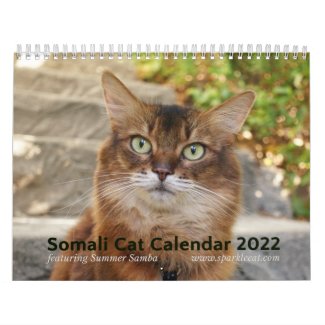 2022 Somali Cat Calendar Starring Summer Samba
See all of Summer's merch at her
her Zazzle Designercat Shop