Grumpy Cat recently won $710,000 in a copyright and trademark infringement lawsuit. Or rather, the winner was the Grumpy Cat machine, inspired by the dour face of Tardar Sauce, a small cat with a type of dwarfism. My human posted this BBC story on a cat blogging group she belongs to, and there was a lot of debate over whether Tard was being exploited, and whether this was good for her wellbeing.
Which brings me to the question, when is it okay to have a public cat, and when are the cat's humans going too far?
The only ones who can answer that, really, are the humans who live with and are responsible for the cat. However the cat is treated, I'm sure they know in their hearts whether it is right or wrong.
I don't know for sure how well Grumpy Cat is treated as a pet — because no matter what, she is a pet first, and a public figure second. My human has met Grumpy Cat and her human a couple of times, and it all seems a bit awkward. For all she knows, it could be because Tard's human is not someone who has any training being in front of people. She came from humble beginnings, and having this cat as a pet was a fluke. What may seem like exploitation on the outside could also just be a human handling sudden fortune in the only way she knows how.
Public Cats With Humans Who Do It Right
My human is more comfortable with a couple of other public cats she has met. Both Lil BUB and Oskar the Blind Cat have human caretakers who visibly love them. You can feel the attachment when you meet them. (This doesn't mean that Grumpy Cat's family doesn't love her, just that it's not as obvious to someone seeing them out and about.) Both Mike Bridavsky (Lil BUB's "dude") and Oskar's human, Mick Szydlowski, make it clear that they put the needs of their charges first. They also make sure that proceeds from their cats' public works go to charity to help less fortunate pets. Lil BUB and Oskar rise above the quirks of their special needs — they are inspiring, fun, and full of life.
So, What About Me?
I may not be as famous as any of these kitties, but I am a very public cat. My therapy work and my appearances at cat shows involve interacting with dozens of humans. Over the course of a two-day cat show, the number may be in the hundreds! I wear dresses and do tricks. I fly on planes a few times a year! But you know what? I actually enjoy it. When my human and I go somewhere and we reach our destination, the first thing she does is take me out of my carrier. And I purr and can't wait to start exploring. If somebody wants to pet me, that is awesome.
I also purr when I get to practice my tricks, or go out on my harness and leash. I've been a public kitty since I was four months old and competed in my first cat show. It's a life I'm used to and I love.
Sometimes I wonder if I'm exploiting my human by making her spend so much time with me!
But I think we're okay. And like those more famous felines, I also have a special message I hope I am spreading — that we cats are capable of more than most humans believe, and many cats can do some of the cool things I do! If I encourage people to teach their cats tricks, or leash train them, that is great! I want to be fun and inspiring, like Oskar and Lil BUB, but in my own way.
My human says that as long as I enjoy what I'm doing, and I continue to like meeting people, and traveling, and taking care of patients, we will keep doing it. If I ever decide I don't like it anymore, we'll stop. My human stopped having me in competition at cat shows because she could tell I didn't really like it anymore. She worried it would damage my temperament and the fun I was having with the other things I do. At first it was a temporary break, but then my human saw no reason to make me start again.
I think the difference between being a happy public cat and one who is maybe being exploited boils down to teamwork. My human and I are definitely a team. My human got that same sense from Oskar and Lil BUB and their humans. She also senses that with some of the cats at shows who really seem to love it. When you are part of a team, you are working together. When half of the team wants to retire, you don't force them to keep on. You retire the team.
So those are my thoughts! What do you think?
* * *
---
---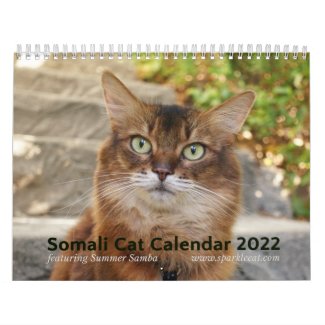 2022 Somali Cat Calendar Starring Summer Samba
See all of Summer's merch at her
her Zazzle Designercat Shop