I have to say, although I have offered advice to cats with litter box issues, I don't really get this "inappropriate elimination" thing. I use my litter box religiously (thank Bast), as do my two roommates. All the cats my human has lived with have had good litter box habits, and there were only two exceptions in all those years: her parents had a cat that kept peeing on a plastic sweater storage box, but the moment they got him fixed, he stopped. And once, the cat before me peed on her boyfriend's carton of guitar strings… but that was completely territorial and she only did it the one time.
You might say we are lucky here, because apparently a lot of you out there aren't as good with your litter box habits! For fun, I posted the cover to this book and it got a load of likes and 35 shares (which is a lot for my page!):
So I gather there was quite a bit of identification going on! Now I am wondering how many of you kitties out there do pee on stuff, or know another kitty who does? Please tell me your stories in the comments below — I am really curious to know!
* * *
---
---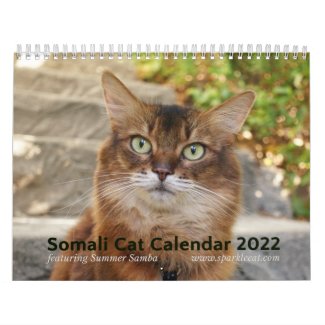 2022 Somali Cat Calendar Starring Summer Samba
See all of Summer's merch at her
her Zazzle Designercat Shop