Here is a cool event coming up this Saturday, November 19: National Get a Pal for Your Pet Day! So now you humans have another reason to either add another kitty to your household, or help someone else find a second cat! Maybe you can volunteer at your local cat rescue and convince adopters that two cats are better than one.
I know some of you kitties are staunchly only cats, but the rest of you are more social types who enjoy the company of others. There are a bunch of reasons why two cats are better than one:
Two cats are less likely to act out destructively. Single cats are often bored, and might get into all sorts of trouble. True, two cats may destroy some things too, but that's just because they are happy and playing and not always watching what they are doing. It's not because they are sad and friendless.
Cats are more social than humans realize. We get lonely when we are left alone all day! A lonely cat might overgroom or roam around the house, complaining loudly just to hear her own voice. No amount of cat toys can replace a living, breathing kitty friend.
Two (or more) cats keep you warmer at night. Winter's coming up, so this is good to know!
I'll be bluntly honest here: sometimes you humans are a big pain in the you-know-what and it helps to have a friend to complain to. If we are able to let off steam, we are less likely to take out our annoyances on you.
But here is the most important reason to have a multi-cat household: you may be saving a life! If you have not seen my video A Cat Day on Earth, check it out below. It contrasts the comfortable lives of us housecats with the despair of being in a shelter — and it is up to you humans to make a difference for those shelter kitties!
If you can't see the video above, click here to watch it on YouTube.
Disclosure: This post is sponsored by Pets Add Life. As you know, I generally don't do sponsored posts, but I thought their campaign to promote multi-pet households was so awesome, I agreed to do it. Nevertheless, all opinions are strictly my own.
* * *
---
---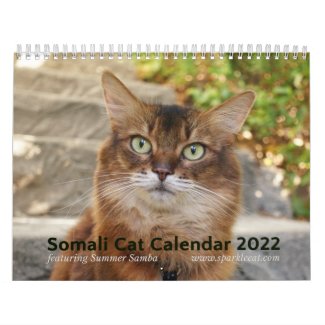 2022 Somali Cat Calendar Starring Summer Samba
See all of Summer's merch at her
her Zazzle Designercat Shop