My human has never believed in using a squirt bottle on a misbehaving kitty, but many years ago, her boyfriend did. It was when Binga was still mostly a kitten. I hear she was completely insane and acted out all the time. Like, even more than she does now. One of the things she enjoyed doing was clawing the box springs of the humans' bed… usually a little while before my human's boyfriend had to get up to go to work. That used to make him crazy, and he would squirt her with a water bottle when she did it. He even had it hanging on his side of the bed. Then one day, when she was clawing the box springs like usual, he grabbed the water bottle and looked down through the wrought iron headboard — and Binga was cringing, just waiting to be squirted. That was the last time my human's boyfriend reached for that thing.
There are a lot of reasons not to use a squirt bottle to discipline your cat.
Let's look at Binga's behavior. Why do you think she was clawing the box springs? If you said, "For attention," you get a brownie point! That's why using the squirt bottle never stopped her — she got attention. Granted, it was negative attention, but that was okay with her. She is still fine with negative attention. And… note that she only did this with my human's boyfriend and not my human. Why? Because my human slept through her clawing, or if it woke her up, she ignored it. So there was no payoff.
Here's something else — we cats don't understand punishment to begin with because we lack guilt. We do things because we want to, or because we think we need to. Either way, there is nothing wrong about it. So discipline makes no sense to us. Oh, we might not do whatever it is you don't want us to do when you are there. But as soon as you are out of sight, we will go right back to it, if that's what we want to do.
A cat's behavior changes for real when she has better options, not because someone is punishing her. You need to figure out why your cat is doing what she's doing and create a better option, while making the old option unappealing. Putting a mat with sticky tape on the kitchen counter, for example, is a better deterrent than skulking around with a spray bottle. But at the same time you need to figure out why she wants to be there. If it's her path to the top of the refrigerator, you still need to create a way for her to get up there. Or if you are leaving food out, simply put it away more promptly so there's no payoff.
Using a spray bottle is a lazy way to stop a cat's bad behavior. It's temporary and doesn't solve the problem. But that's not the worst of it. Here is the main reason I think using a squirt bottle on a cat is a bad idea:
It damages your relationship with your cat, and she loses trust in you.
When you use a spray bottle on your cat, or you do something else unpleasant to her, she learns that you are a mean and unpredictable creature. It affects her behavior around you, and her idea of life in general. Because if she can't trust you, and she doesn't feel safe in her own home, that's a pretty awful situation to be in, isn't it?
Spraying a cat with some water may not seem like a big deal, but it can cause her a lot of stress. She doesn't understand why you are being this way about something that she doesn't believe was wrong to begin with. Or perhaps, like Binga, she just wanted attention and maybe a snack — and she got squirted and yelled at instead. Doesn't that risk warping the bond you are trying to forge with your cat?
My human works very hard to make sure I know I can trust her. Things like squirt bottles are the antithesis of our bond.
We cats are simple creatures, really. But the solutions to living with us are sometimes not so simple! The humans who look at the bigger picture to create a safe and happy environment for their cats will always share the tightest bonds with them.
* * *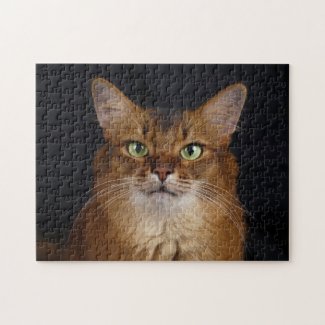 Somali Cat Photo Portrait Jigsaw Puzzle
See all of Summer's merch at her
her Zazzle Designercat Shop