It's National Cat Day! And I am allowing Binga to tell the story of how it came to be. Well, "allowing" is more like "being forced to allow."
National Cat Day began on October 29, 2005 behind bars at a kill shelter! A half-dozen tortoiseshell cats decided to break out of their cages, and they plotted a takeover! When the workers least suspected it, they stormed out of the cat area and proceeded to wreck the place! The police came, and then a SWAT team, and then the National Guard, but they were powerless against all that tortitude! The only way the humans could end the standoff was to retreat and leave the kill shelter in the paws of the torties! The tortoiseshell cats then released all the animals and smashed all the equipment used to euthanize the unwanted pets!
Ever since, that day has been commemorated as National Cat Day.
Um, it didn't exactly start that way. It was started in 2005 by pet welfare advocate and pet and family lifestyle expert Colleen Paige. She wanted to raise awareness for cat rescue and to give humans a special day in which they could celebrate the lives they share with their cats. I don't think Colleen Paige was a tortie. If you want to know more about National Cat Day, you can visit the official website.
I guess she didn't like being corrected.
* * *
---
---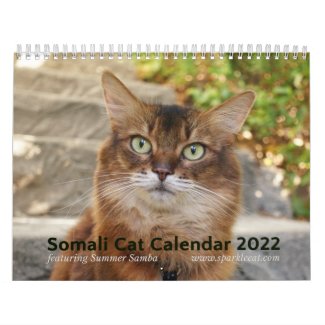 2022 Somali Cat Calendar Starring Summer Samba
See all of Summer's merch at her
her Zazzle Designercat Shop