Having my human answer my reader's questions (cats only) on National Answer Your Cat's Questions Day has become something of a tradition around here. Sparkle started it, and I've continued it. This year the holiday came up when we were doing other things, so the questions are sort of last minute. I asked my Facebook pals and fellow blogging cats for questions yesterday evening… and they actually came through! I've used all the questions that included the cats' names, so there were a couple I had to leave out. And now I get to put my human to work. The questions are in bold; my human's answers aren't.
(Note: If the name has a link, it goes to one of my blogging pals!)
TyBee asks: Why does the human keep petting/ touching me when I clearly let her know that I do not want to be touched???
I don't know what to say — humans are stupid like that. It took me a while to figure out the not touching signals (Binga bites, and I think that helped me learn), and I follow them. But a lot of other humans just ignore them.
Curzon asks: What's with this human fascination with violence they call sport, cheering hits? I don't even understand how they can call it "foot"ball!
I don't get it either, since I don't like sports. But maybe you can think of it this way: when you are looking out the window and see birds or squirrels, don't you get really excited? Maybe sometimes you talk or chatter at the birds too. I think humans watching football are something like that.
Jake asks: How come my human won't open another can of food for me when I tell her I don't like the one she just opened?
She thinks you will eat it if you aren't given any other options. Hey, it works here sometimes, although I get dirty looks.
Mudpie asks: Why does Mommy call me to bed each night, then call me a bed hog and complain that she can't move all night because I'm sleeping so tight to her? Am I doing something wrong?
I confess, there's no pleasing some humans. I know I want all three cats on the bed when I go to sleep — and then, sometimes it gets a bit crowded. Since there is only one of you, it's pretty impressive that you can make your human feel that crowded all by yourself — although I do want to say I did have one cat once, a long time ago, with the same skill. He wasn't big either. He was probably well under 10 lbs.
Binky and Mimi ask: Why does our MomLady always let water get on her for long periods of time every morning? We sit outside this rain box yelling at her to stop but she keeps doing it! How do we get her to understand that spraying herself with water is dangerous?
You know, it is dangerous in there! If your human slipped and fell she could hurt herself. Sorry to let you know, that possibility is not going to stop her… oh boy, now I've probably made you two even more upset.
Cathy Keisha asks: Why is it that humans don't like us eating human food that we like? I don't see anything harmful about a little Chinese or Mexican food. (Agatha Christie-cat had a similar question.)
Summer wanted to know the same thing earlier also, when I was eating an Italian chicken sausage. Honestly, these human foods are so full of salt, spices, and probably nasty GMOs and preservatives that even the slightest bit is likely to make you ill. Your humans don't want to risk it (especially at your age, and yes, I know how old you are), and I don't want to risk it either. Besides, humans famously hate cleaning up cat puke and paying expensive vet bills, both of which could result from a cat eating even a small bit of human food.
Tiger asks: Why does my human always talk so much to me? I've told her repeatedly I don't speak her language yet she keeps up a near constant stream of words.
Hey, I don't understand Meow, and Binga talks to me all the time! You can always ignore her (the same way I do with Binga), or you can just listen to the tone of her voice to figure out if it's anything important.
Miss Newton asks: Why does the bathroom door need to be closed whenever a human is in there? Also, is there such a thing as having too many IKEA rats?
Usually, humans shut the bathroom door for privacy from other humans, so it's nothing personal for kitties. Although Binga does bite bare skin, so sometimes she is not allowed in the bathroom here. Other than her, nobody else cares to come into the bathroom while I'm in there, so my feelings are kind of hurt. As for the IKEA rats… I prefer Victorian and Mission style furniture, so I never shop at IKEA and I'm not sure what those rats are.
Jaq asks: Why does the Mama get mad when I jump up on the counter? I try to get her in a good mood again by laying on the counter to let her rub my belly but that doesn't seem to help.
Well, everyone here is allowed on the counter, so I can't answer your question. I wouldn't want Summer lying on the counter though — she might get food crumbs in her fur, and I'd have to give her an extra bath.
Gus (sibling of Jaq) asks: The Mama goes to this place called "work" every day. This place doesn't seem to make her happy. Is "work" like going to the vet? Why does she keep going there? What can I do to make her day better once she gets home?
Work is kind of the opposite of going to the vet, because going to the vet costs humans money, and work pays humans money. But a lot of humans don't like the work they do. Still, they need the money for your cat food and toys. Speaking of toys, I think you could make your human's day better when she gets home by playing with her. So maybe she can pull out a wand toy or throw around a few catnip mice for you.
Carmine asks: Why did my human take my kibble away and where did she hide it?
She probably took it away because most canned food is better for you. A lot of kibble has junk in it — it's like if humans ate vitamin-fortified cereal all the time. It would make them sick. As far as where she hid it, I don't know. She didn't tell me – honest!
Harry asks: Would Summer like to share a gopher?
Probably — she always likes it when I bring home chicken hearts from Whole Foods. And she's too lazy to catch her own critters. (Don't tell her I said that!)
I hope you enjoyed my human's answers… hey, wait a minute! What was that last part?
* * *
---
---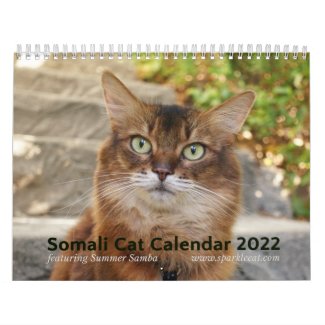 2022 Somali Cat Calendar Starring Summer Samba
See all of Summer's merch at her
her Zazzle Designercat Shop