This post is sponsored by Purina, but Binga always likes to see her rescue story in print! Purina is not responsible for the contents of this story, and all opinions are our own.
Some of you know how Binga wound up here and some of you don't… but it's always worth telling again! And it's my way of introducing you to a really great adoption drive that Purina Cat Chow is having that will help get a lot of cats adopted, with your help!
Many, many years ago, my human and her boyfriend made friends with a neighborhood cat who went missing for a couple of weeks. My human went searching for him at the local animal control facility. He wasn't there… but this amazingly friendly young black cat was. My human decided she wanted him, but it was October, and they weren't adopting out black cats until after Halloween, for the cats' own safety. While my human was discussing this with the shelter workers, there was a crazy little tortoiseshell kitten desperately begging for attention, mewling and reaching out through the bars of her cage, trying to grab anyone she could get her paws on. My human didn't want to leave this crazy little cat behind, but she already was planning on picking up the black kitty November 1. Fortunately, her boyfriend worked at a vet clinic at the time, so she figured she could rescue the tortie kitten, take her to the clinic, and she could find a home with their help. The clinic often had adoptable kittens there.
So that's how it worked out… except when my human went to get the black kitty a few minutes after animal control opened on November 1, somebody else had already adopted him! The person who had brought him in as a stray actually wanted him, but had turned him in just to make sure he didn't belong to anyone else. When he wasn't claimed, she picked him up as soon as she could. The animal control people were surprised because in those days, two people never wanted the same cat, much less a black one. So my human went home empty-handed, called her boyfriend at work, and told him to bring home the kitten. And that's how Binga came to live here. She was named Binga because she bounced off the walls – bing, bing, bing! She also thought it was fun to attack the human's faces first thing in the morning to wake them up. Fortunately she grew out of that.
Binga has a lot of tortitude, and the cat before Sparkle, a calico, did not like her at all. Binga also used to get on Sparkle's nerves a lot, as many of you remember. I can see why, but you know what? She is my pal and I am glad the humans brought her home all those years ago.
Now it is your turn to share your cat's rescue story! Purina Cat Chow has pledged to subsidize adoptions for at least 2,500 cats – 50 cats at each of its 50 shelter partners, one shelter in each state. Here is where you come in: share your cat's adoption story with the hashtag #MyRescueStory on Twitter, Facebook or Instagram, and Purina Cat Chow will donate $30 towards a cat adoption fee at one of the shelters, up to a total of $75,000! I'm sure lots of you out there have great adoption stories!
Purina Cat Chow has also donated $25,000 towards a shelter makeover to one of its partner animal welfare organizations to help enrich the lives of the cats that are waiting for homes there, and they will announce the shelter June 18!
That's a lot of help for kitties in need!
To recap:
Tell your adoption story using the hashtag #MyRescueStory
For each story Purina Cat Chow will subsidize a cat adoption at one of its partner shelters for $30, up to a total of $75,000.
For more information, visit www.catchow.com, or visit Purina Cat Chow on Facebook or Twitter (@catsoutofthebag).
Remember, June is Adopt a Cat Month, and this is an awesome way to help promote cat adoption!
Binga and I hope to see your rescue stories on social media soon!
* * *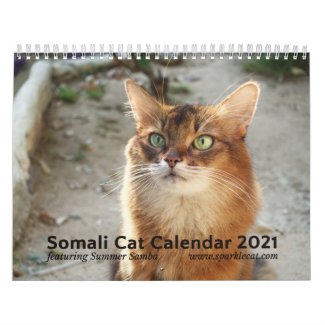 2021 Somali Cat Wall Calendar, Starring Summer
See all of Summer's merch at her
her Zazzle Designercat Shop