My human and I attended a special event right in our living room! It was a cat first aid and CPR class on Zoom! The instructor was Arden Moore, who has been teaching pet first aid and safety for years.
Usually Arden travels to give these classes in person. But since the pandemic, she has started teaching it on Zoom. And she discovered that there was an interest in having cat-specific classes. Because cats often have different needs from dogs in an emergency. She keeps the classes small so she can keep an eye on how everyone is doing. There were attendees from all over. Someone even zoomed in from Germany!
Some of the attendees had plush cats to work on for the class. But a couple had cats that were willing to participate. Of course, that included me.
And Arden has her own co-instructor: Pet Safety Cat Casey! My human and I have actually met Casey in person. He and Arden were presenters at the Cat Writers awards banquet in 2019, and my human and I also participated.
When Arden needed to show us how to do things, like how to find a pulse and CPR, she could show us on Casey. And that helped my human find a pulse on me too! She actually learned lots during this class. It was three hours and she took pages of notes. The class also included a 34 page manual and a certificate of completion.
Some of what my human learned (along with the CPR, bandaging, and dealing with choking, poison and other important things) included:
Be in the present moment during an emergency. Communicate calm and save the freaking out for later, after the emergency has passed. Cats can smell panic a human's emotional state.

Treat the situation like any good first responder — look around, listen, smell, and safely touch the cat.

The more information you can uncover, and the more first aid you are able to give, the better for when you get the cat to the vet. The vet will have more information from you, and you will save time (and maybe money) in dealing with emergency situations.

A weekly head-to-tail assessment is one of the best things you can do to keep your cat healthy and happy. Arden gave the students the steps for this.
This was an amazing class, and Arden is a great instructor! So is Casey. My human is used to getting bored and tired in the middle of classes, but she was at attention for the whole three hours. And she learned so much in that short amount of time. It was even better than the in-person human CPR and first aid classes she's taken. We can't recommend it enough. And it's really reasonably priced too.
Arden has classes coming up. If you are interested you can find out about them here. You can find upcoming classes under "Schedule."
Note: My human paid full price for the class and we are not receiving any compensation for this blog post.
Other posts you'll enjoy:
* * *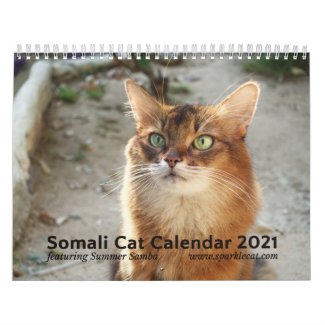 2021 Somali Cat Wall Calendar, Starring Summer
See all of Summer's merch at her
her Zazzle Designercat Shop