Honestly, I am one of the luckiest cats in the world and I don't have to wait for a special day to be grateful. Unlike the majority of cats, I was born into a situation that almost guaranteed that I would have a nice home and good humans to take care of me. I never, ever take that for granted. But since this is my first Thanksgiving, I'll give you my list of things I'm especially thankful for:
The rescues that bring their adoptable cats to the cat shows where I compete — and that sometimes enter them in the Household Pet competitions. They constantly remind me that all cats are winners, and the important things in life are love and a good home, not ribbons.
The caregivers of feral colonies, who brave all sorts of weather — and sometimes danger — to make sure these cats are fed and cared for. It's very important to be an advocate for feral cats when it comes to legislation and donations, but the caregivers are on the front lines and fighting the hardest.
The cat blogging community, in the Cat Blogosphere and beyond, who so warmly welcomed me into their family. You guys are the most generous, good-hearted group a kitty could have!
Likewise my blog's readers, who accepted me and cheered me on when I took it over. I know what a loyal fan base Sparkle had, and I was so worried you were going to think I was an upstart! Instead, you accepted me into your computers, tablets and smartphones. How awesome is that?
My roommates Binga and Boodie, who are two of the youngest senior cats I have ever met! They both are fun playmates, and Binga is a lot less grouchy than when I first met her. I knew we were all going to be pals… and we are!
My breeder, who let me go home with a human who had (and has) some pretty fabulous plans for me! Several humans wanted me (in fact, she considered keeping me herself), and it was up to her to decide who I got to be with.
And especially, I want to thank Sparkle. Even though I never met her, I feel her presence every day. Many of the places I sleep and the toys I play with (and yes, the costumes I wear) belonged to her, and when she left me her blog, she left me a legacy that I wasn't sure I could handle! But in her will, she gave me the freedom to forge my own way and color her blog with my own personality. I am working very hard to make this blog the best it can be, and I hope I am making her proud!
What are you thankful for?
* * *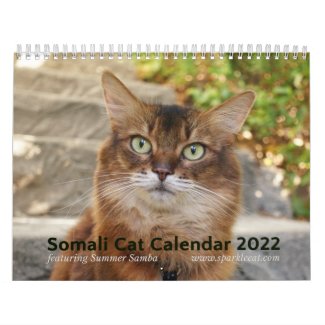 2022 Somali Cat Calendar Starring Summer Samba
See all of Summer's merch at her
her Zazzle Designercat Shop