So you are probably wondering what I am doing sitting on a stack of T-shirts promoting animal rescue. A few weeks ago, my human got an email from a clothing company called Arm The Animals, that specializes in cool edgy designs and donates a portion of their profits to animal rescue groups. "We are completely independent and non-political. We just simply make cool clothing and do our best to raise awareness and funds for rescues. We were wondering if we might be of interest to you for an article about clothing with a cause," said the email. My human looked at their website and found out they were located only about 15 minutes from our house, so she asked if she and I could come down in person, and they said yes!
With this little trip, my human felt she was accomplishing two things: we both love the idea behind Arm The Animals and wanted to write about them, and this also gave me a chance to go somewhere noisy and unfamiliar as practice for my therapy work, when I'll start off by visiting a noisy and unfamiliar hospital. And yes, the offices were busy and kind of noisy, plus there was a boxer dog there who doesn't know anything about cats. But I did good! I was a little worried, but I kept eating treats and still did tricks, which meant I wasn't too far out of my comfort zone. And everyone was nice and really happy to meet me.
Arm The Animals was founded in 2010, after the tragic death of the founder's sister, who was a passionate animal advocate. The company is a means of continuing her legacy by bringing attention to issues surrounding animals, and helping out smaller rescue groups. The cat rescues they've helped include Blind Cat Rescue, and The Cattery in Corpus Christi, along with pet rescues such as Strangest Angels Animal Rescue in Los Angles, and dog rescues such as Fresno Bully Rescue.
I got to model one of their bandanas.
This cotton sling bag honors Cecil the Lion, who you may recall was murdered during an illegal hunt.
Here is a cool patriotic T-shirt of a kitten throwing a hand grenade! I told you their designs were edgy.
And here is one of their Cats logo T-shirts. The Arm The Animals humans generously gave my human these shirts and the bag and did not mind that I laid on some of their things — of course, because they are animal lovers!
They also gave us a poster and some stickers, but my human had to wait and have me pose with them at home, since she didn't want to take them out of the cellophane at the Arm The Animals office. The designs you saw here are only a sampling of what they have. There are awesome designs for cat and dog lovers, and anyone who supports animal rescue and wants to make that statement in a bold and exciting way.
Arm The Animals is an awesome business model — while they're a for-profit company, a big part of what they do involves caring about a cause and giving back. They don't focus on just a one-off charity, but make helping and raising awareness part of their purpose. My human does the same thing with her publishing company, so she and I were really excited to find a company of like mind. If you are going to CatCon, you will see them there, and if you live in the Los Angeles area, you may see them at rescue events. If you aren't in L.A., you can see all their cool fashions, and shop for them online. You can also visit them on Facebook and Instagram.
Note: This is not a sponsored post. I am writing about Arm The Animals because I like what they do, and expected nothing in return. The items we were given were a pleasant surprise!
* * *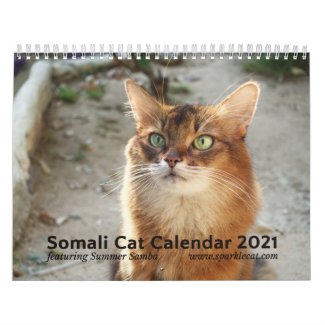 2021 Somali Cat Wall Calendar, Starring Summer
See all of Summer's merch at her
her Zazzle Designercat Shop