Humans have a lot of misconceptions about cats… but to be fair, we kitties also have some misconceptions about humans. Some human behavior we get completely wrong, mainly because we expect humans to act like cats — but of course they can't do that. They just don't have the smarts or the skills. But if we cats took some time to learn a little more about humans and the way they think, maybe the things they do wouldn't be so confusing. So here is the truth behind a few of the biggest misconceptions we cats have about these fascinating, almost-hairless two-legged servants of ours.
Humans can't control the weather. When it rains and your sun puddles disappear, your human is not able to make them come back. Humans spend a lot of time trying to predict the weather, but with all their efforts, they can't even do that, much less change what is going on outside.
Humans actually aren't programmed to get up at the same time every day. Many of them have this weird schedule of five days getting up at one time, and then a different, later time the other two days of the week. This is very confusing, since we cats can't be bothered with things like calendars and counting days. That's why it is sometimes so hard to get humans out of bed when you think they should get up — it's probably on one of the days they get up later. You can either a) deal with it; or b) redouble your efforts in getting them out of bed at a reasonable hour. Most cats choose the latter, but with mixed results.
Humans are not graceful or agile. I know, most of you kitties think you know this already, but do you? So why do you continue to wind yourselves around their legs at mealtimes, which risks getting your paws or tails stepped on? (Binga, I'm talking to you!)
On that same note, when humans are doing yoga, they aren't pretending to be cats. I know it kind of looks like a bad imitation of a cat stretching when they do some of those moves, but they are just working on their limited flexibility. I think they already realize they will never be as flexible as a kitty.
Humans are very territorial creatures, even though they don't use bodily fluids to express it. They get very upset when cats urine mark their belongings, but instead of covering it up with their own, they get loud, or they pull out smelly cleaning supplies and grumble a lot. It's not a very effective way of remarking territory, but I didn't say that everything humans do makes sense.
The veterinarian isn't trying to kill you. I know it kind of looks and feels that way, but they actually think they are helping you, and often they do. Come to think of it, I don't believe that humans like going to their own doctors, either.
Human food is not better than cat food. A lot of kitties fall for this one, and want to have some of what their humans are having. The truth is, most of the stuff they eat is unpalatable. Pizza? Cake? All that stuff that comes with the hamburger, like the bun and lettuce? It's all useless, at least if you're a cat. And sometimes, humans even ruin good meat with things like spices and onions, which are guaranteed to upset kitty tummies — or worse. Human food, more often than not, deserves a pass.
When humans leave the house, they are usually doing boring stuff. I know it seems like they must be doing something interesting or exciting, but nope! It's often stuff like "work," or going to the bank or the market. The type of thing you probably wouldn't want to do if you had the chance. The only interesting place humans go to when they leave the house is the pet store. Although I confess, I think going to the bank would be fun!
No matter how hard you try, they will never understand cat language. They think cat language is meowing — they don't get that that's not how cats communicate with each other. Our body language, the way we physically connect with each other, and our subtle ear and eye movements are far more eloquent than just running into the kitchen and meowing for dinner — which is what we have to do to communicate with humans. Because they understand vocalizations better than anything else, that's what we're forced to stoop to so we can get through to them. But they will never fully understand the rest of it.
That's what I've got for today! Have you found any other misconceptions cats have about humans? Let me know in the comments!
* * *
---
---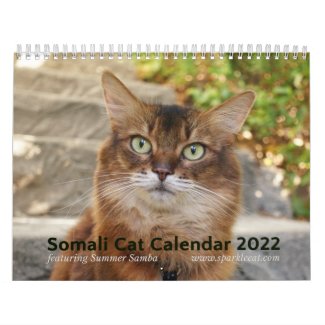 2022 Somali Cat Calendar Starring Summer Samba
See all of Summer's merch at her
her Zazzle Designercat Shop