I've noticed that a lot of humans are obsessed with the number of visitors who come by their blogs. They use stat counters and Google Analytics to see who has found them, and which pages they looked at. I'm not all that interested, mainly because these stat counters do not differentiate between cat visits and human visits — and I only care about how many cats visit my blog. But I was kind of curious to see what kind of search phrases, or keywords, visitors use to find me, so I had my human check it out.
Here are some searches that may brought you to my blog:
sparkle the cat
Fair enough. Entering that into Google is a pretty good way to find me.
sparkle cat collar
Hm. I don't like this one so much. I tend to think collars are evil. And after Binga got her name tag stuck in the heater grating and my human had to undo her collar to free her, she agreed and just let us rely on our microchips.
cat collars for humans
Yessss! Make them wear the darn things.
designer cat trees
Ah, that's even better! Designer cat trees are definitely a good thing. In fact, I wish a designer cat tree would find me, instead of just a human (or cat) looking for one.
cat trees made from real trees
Another winning idea! What I want to know is why do visitors find my site using this phrase, when I don't have my own cat tree made from a real tree? It's unfair, I tell you!
do cats like kisses
I am happy to report that this search phrase led this particular visitor to an advice column of mine that definitively answers, "no."
cat rules for humans
A very wise human must have used that search. Either that, or a cat with a not-so-wise human.
cat pirate ship
Sorry guys, but you can't have mine!
amazing cat toys
I'd certainly like an amazing cat toy… how sad to know that searching on that phrase would likely just bring me right back to my own website.
pro declawing
I'm proud to say that this search brought the visitor straight to my article entitled, "There's No Such Thing as a Pro-Declaw Kitty." Idiot.
human manipulation
I'm 99% positive a cat did that search.
* * *
---
---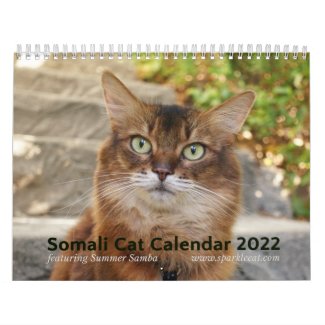 2022 Somali Cat Calendar Starring Summer Samba
See all of Summer's merch at her
her Zazzle Designercat Shop