It's late and my human wasted a lot of time taking photos of the Blood Moon so I am going to make this Blog the Change post quick and to the point. I've been telling you now and again about the rescue cat book my human is editing. I'm finally ready to reveal the cover! The cats along the bottom may change — there was one cat in particular my human wanted there but she didn't have the photo licensing agreement from the photographer at the time (she does now), so she left him off temporarily. Do you recognize the cat in the large photo? It's Crepes! And you may not recognize the work of the cover designer, but you all know her… it is Glogirly!
What does this book have to do with "living the change for animals?" When my human was putting together the concept for this book, a very important part of it — a crucial part, in fact, was to make sure it did something to help kitties in need. So she decided that each of the 12 authors who contributed to the book would have a rescue they would support, and for the first year, each of those rescues will get a portion of the book's profits, one for each month. My human is hoping that many of the authors will take advantage of this and work to promote the book for the month their rescue is benefitting. When it gets closer to the fall, 2014 release date, she will be discussing promotion ideas with the authors, and how to make their rescues part of the promotion.
My human believes that supporting causes, whatever it is you believe in, should be more than just donating a few dollars at the end of the year, or going to an annual event, or volunteering now and again. Nearly everyone does most or all of that and that's great — but how much more awesome would it be if you could make your favorite cause part of your life? That is what my human is trying to do with books. With every book she does from now on, she wants to come up with a way to help a cause related to the subject. Since she does a lot of cat stuff, she will be helping kitties in need frequently, but eventually she will branch out and there will be more causes to help.
If you think creatively, you can find ways to make helping animals in need a part of your life. Even if you don't do something creative like my human or work for yourself. Maybe you can talk to people at your work and get them or the company involved in a cause. Are you an older person who belongs to a seniors group? Perhaps you all can get together and work on something to help. The possibilities, like your imagination, are unlimited.
What can you do to make helping your favorite cause a part of your life? Please think about that today!
* * *
Check out my Valentine's Day Collection on Zazzle!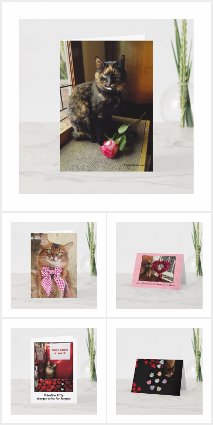 See all of Summer's merch at her
her Zazzle Designercat Shop