Recently, a children's science project with an interesting premise went viral. Kaeden Henry, 12 years old, decided to find out if a cat's anus (cat butt to the non-scientific) really does touch the surfaces she sits on. So he conducted the experiment with the help of some lipstick and some cooperative cats. It helped that Kaeden's mother has a PhD in animal behavior (with a feline focus!), and the cats are trained to do several commands including sit. Well, my human has no degree nor is she a sixth grader — but she does have some lipstick and I am trained. So she figured why not try to duplicate Kaeden's results?
Things began going south almost immediately.
The first problem was that I find it necessary to rub on everything that's held in my general vicinity. Including lipstick cases. That alone made it difficult for my human to get a photo of me with the unopened lipstick. She intended to put some of the lipstick on a cotton swab so she didn't totally ruin the lipstick for this experiment. That's where the second problem came in.
Unfortunately, I was compelled to headbutt the loaded cotton swab… and got lipstick on my forehead.
Undaunted, she figured she could remove the lipstick with the pet wipes… and somehow managed to make the problem worse!
You'd think she would have given up at this point, but noooo!
She figured that if she could just swab the lipstick on my behind, we could continue anyway. She didn't count on my being a bit squirmy, and I wound up with lipstick all over my pantaloons! I can guarantee that at this point, if I'd sat on anything, I would have gotten lipstick all over it.
This was when my human finally admitted defeat. She cleaned the lipstick off me the best she could. She got most of it, but it took a full bath a couple of days later to clean me up completely.
Of course I had to work on it too.
For her lipstick on a cat project, I give my human an F-. Kaeden, in case you are wondering, got an A+, and he discovered that longhaired cats' butts don't actually touch the surfaces they sit on, but that shorthaired cats' might on soft surfaces. You can see the whole project on a Facebook post his mom did.
Other posts you'll enjoy:
* * *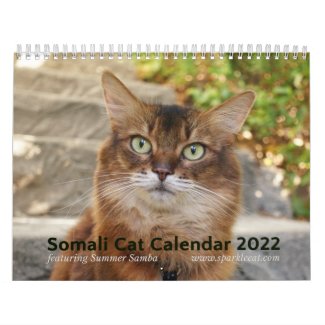 2022 Somali Cat Calendar Starring Summer Samba
See all of Summer's merch at her
her Zazzle Designercat Shop