Have you waited too long to buy Catmas gifts, and now you're stuck with only a few days left to shop? I think that is a great thing because I have an idea that not only helps you with your gift problem, but helps cats too: sponsor a rescue cat in your recipient's name this holiday season.
There are a number of rescue organizations that are set up so that you can sponsor a cat as a gift, and they will send an eCard to let your recipient know you have done so. If you do some research around the internet, I'm sure you can find some groups, but here are three of my favorites:
Best Friends Animal Society
You can browse through 60 Best Friends cats to find the one whose story resonates the most with you and the human you are shopping for. Your one-time or monthly donation amount includes the cat's downloadable photo and story, sent to the recipient with your personal message, plus an optional free subscription to Best Friends' bi-monthly magazine. You can also make the gift a tribute to a special person or pet, which is a lovely gesture if your recipient has lost someone close to them this past year. Oh, and if your recipient likes other creatures, you can also choose from other animals at the sanctuary, from dogs to birds to wildlife, and just about anybody in-between!
Tabby's Place
Tabby's Place has a great variety of gift sponsorships for the cats in their care. You can give a monthly sponsorship for one of their special needs kitties, or buy a virtual gift basket that contains supplies for Tabby's Place cats with specific illnesses such as diabetes, heart disease, mom and kittens, or seniors. Or you can also buy a virtual holiday gift basket for homeless kitties — the cats get the food, treats and toys, and your recipient gets a card celebrating whichever holiday is their preference. You can also make a donation in someone's honor, or as a memorial.
Feline Rescue, Inc.
This Minnesota-based no-kill cat rescue has made it very easy for you to sponsor one of their cats as a gift! They set a good example for local rescue organizations — I wish more of them made the process this simple.
I think a cat sponsorship is the best gift you can give anyone because it is both useful and meaningful. This is a wonderful way to make sure your thought really does count!
* * *
---
---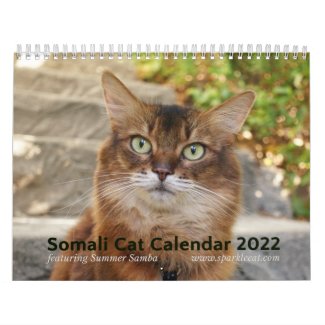 2022 Somali Cat Calendar Starring Summer Samba
See all of Summer's merch at her
her Zazzle Designercat Shop