I thought my wisdom from the other day was nice, but Binga said it wasn't good enough! Now she has her own list. I don't think I agree with most of these, but I am letting her do this anyway… because #10
There is no such thing as a stranger — only minions you haven't met yet.
When someone points a camera at you… whap them because they are pestering you.
There is no need to act cute when you already are fabulous.
If people are in need of distraction, break something or throw up on it. They will quickly forget their other troubles.
All beds belong to the tortie, and if humans try to escape and find other beds (otherwise known as "vacation"), they need to be punished.
There are few things more gratifying in life than knowing you are in charge.
Treats always taste better when they are stolen.
Torties are always in best of spirits, so don't mess with them.
Life revolves around the tortie, and don't let anyone tell you different.
The Whapping Paw will bring any argument to a satisfying end.
* * *
---
---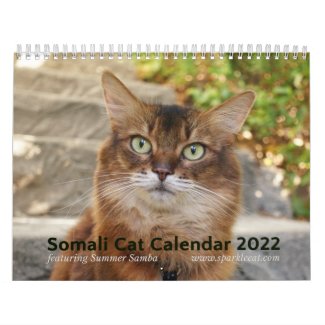 2022 Somali Cat Calendar Starring Summer Samba
See all of Summer's merch at her
her Zazzle Designercat Shop