As I peruse the Cat Blogosphere and beyond, it occurs to me that some of you out there need a refresher in kitty dos and don'ts. So I thought I would put together a quick list of 5 "Dos" and 5 "Don'ts." Read up — too many of you are slacking off!
Oh, this isn't directed towards you kitties. As you know, you can do whatever you want. This is for your humans!
DO
Make sure the cupboard is always full of treats. This is especially important in the winter for those living in areas where extreme weather conditions may leave everyone housebound. Run out of treats at your own risk.
Let the cats have as much of the bed as they want. You really do not need as much room to sleep as you believe.
Rearrange your sleeping and work hours to match your cat's. We cats are not going to change ours to fit yours, so you might as well give in.
Set out the basket of freshly washed and dried laundry for your cat to nap in. You can fold it and put it away later (after going over it with the lint roller).
Give your cats gifts on a regular basis. These gifts must be thoroughly encased in wrapping paper. Actually the gift isn't that important — we just want the wrapping paper to play with.
DON'T
Disturb sleeping cats. That means: no kissing, toe touching or "snorgling." How would you like it if you dreamed you won the lottery, and your cat chose just that moment to take a flying leap onto your stomach?
Cook chicken without giving part or all of it to the cats.
Expect your cat to take care of the rodent problem if you have one. We are not farm cats, we are housecats. Hunting is a sport for us and we choose what we consider prey. And if we do decide to hunt small, furry creatures, don't complain when we gift you with their severed body parts. We are very nutritionally-minded and have discerned those particular parts contain nutrients that your diet currently lacks.
Shut the door to the bathroom. What is up with you people and your weird modesty concerns? If you really need the door shut, at least install a cat door so we can come and go at will.
Go on trips, ever. Just turn that suitcase into a cat bed, and we will be perfectly happy, okay?
Kitties, let me know if you have more to add to this list!
* * *
---
---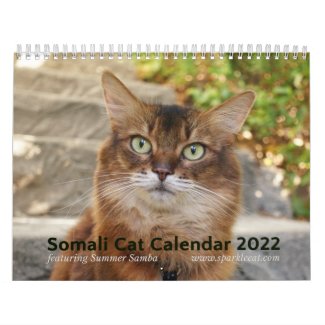 2022 Somali Cat Calendar Starring Summer Samba
See all of Summer's merch at her
her Zazzle Designercat Shop