As you know, we cats are awesome to begin with, but did you know that we can make you humans more awesome too? Here is just a short list of the things we do to make you cooler, healthier and happier!
We lower human blood pressure! Just touching us and petting us has a calming affect on the human heart. Okay, so sometimes we raise blood pressure too with an occasional mind-bending stunt (aerial curtain climbing anyone?), but that's just to keep you on your toes and sharpen your mind.
Our purrs have healing powers! This has been scientifically proven. So next time you have a muscle ache, try this two-pronged approach: apply a heating pad to the sore area and drape a purring kitty over the heating pad. You will feel better in no time!*
We heal human emotions. When you are sad, there's nothing like spending time with a soft, fluffy cat to make you feel better. And if you happen to have a cat that is not so cuddly, she will still help by hacking up hairballs or beating up on one of the other cats in the family, thus engaging you and getting you out of your funk.
We teach you the important things in life. How? Like when we nap in your lap and won't move — it teaches you to kick back take life a little easier. Or when you are trying to balance your checkbook and we leap on the receipts and send them flying — clearly it is time for you to take a break and chill. And the next time you accidentally step on one of the aforementioned hairballs, pause for a moment and realize we want you to stop taking yourself so seriously. How do you know we did not put it there on purpose?
Finally, we teach you humans that the highest goal to reach for is a life of service! Every time you scoop the litter box or go to three different pet stores in search of our favorite treats, you are being of service. Thank you for letting us kitties show you humans your true life's purpose.
*Results not 100% proven.
Once again, PAL — Pets Add Life — has asked me to be part of their campaign. Spreading their message about the joys and benefits of responsible pet ownership is something I am always glad to do! It's important to me to show humans why they should always have at least one cat (and preferably more) in their life, and this gives me an extra opportunity to do it! Check out the PAL page on Facebook, and keep an eye out for a new series of fun videos coming up in the next few weeks!
This post is sponsored by the Pets Add Life campaign and the American Pet Products Association. I am being compensated for helping spread the word about the benefits and joys of pet ownership.
* * *
---
---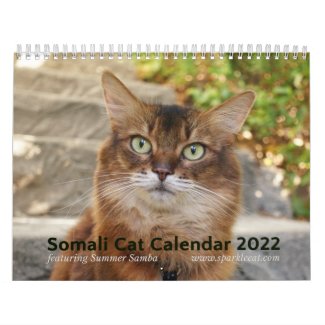 2022 Somali Cat Calendar Starring Summer Samba
See all of Summer's merch at her
her Zazzle Designercat Shop