My trip to Las Vegas was the second time I've stayed in a hotel room (the first was with my human the weekend she took me home). That means I am an expert now on how a kitten should act when staying at a hotel! Here are the most valuable tips I learned!
The first thing a kitten needs to do when she enters the hotel room is find all the good hiding spots! My human made this difficult because before she let me out of my carrier, she looked for them herself — which meant they weren't hiding spots anymore. But she felt it was important to look under the bed and chairs and behind things because you never know what you will find in a hotel room that might be dangerous to a kitten! Behind the bed skirt on this bed was a platform, so I had nothing to go under. But there was a slight space underneath the headboard, so my human put a pillow there to keep me from going in it (although I might have done that anyway — don't tell!).
There are often cubbyholes in the furniture that make great places to watch your human! This space was right by the desk, where my human spent much of her time.
Sometimes when you accompany your human to a hotel room, they are on vacation, but if they are like mine, they might be working — and it is very important to supervise them! As you can see here, my human is on my Facebook page and is helping me update it.
In hotel rooms, there is usually a chest with lots of drawers. Humans generally only use a couple at most, so that leaves a lot of empty drawers. They should be left open so you can play in them!
Of course, you must test the bed and make sure it meets with your approval! As a kitten you will be spending a lot of time playing and sleeping on it.
But be careful to keep an eye out for the paparazzi — they may take a picture of you in a compromising position!
If you are lucky, you will have a ledge by the window so you can check out the view!
In hotel rooms there are always curtains on the windows, so you can play hide and seek with your human! I bet you can't find me in this photo.
Sometimes you wind up entertaining guests in your hotel room! The human from Katnip Lounge came by the first night we checked into the Riviera, and she came with gifts! She made this cool kitten-sized blanket/ mat just for me!
She also crocheted this cool snake to play with! When your guests bring gifts, you always have to thank them properly, especially when they are this nice. The Katnip Lounge human ate in the hotel room with my human so she could hang out with me, and I thanked her by trying to eat her chicken! That meant I liked her! And her chicken.
I know she appreciated my gesture because she came by the cat show the next evening and brought even more gifts — fresh catnip and dehydrated chicken! Isn't that awesome? Of course I saved some to share with Binga and Boodie when I got home.
A couple of last notes: try to play safe, although that is not always possible! I was leaping for the bed in this photo, and if you look closely, you can see that I missed. I wasn't hurt, though. The second day we stayed in the hotel, my human found me hunting through the trash, and after that it mysteriously disappeared. I asked her where it went but she played dumb.
And lastly, this is very important: be nice to the housekeeping staff! They probably will not see you while you are staying there because you human will put up a "Do not disturb" sign and warn people that there is cat in the room. And if they do come in, you will probably be locked up. But we kitties with our food and litter boxes make more of a mess than a lot of regular guests (unless they are rock stars). So make sure your human cleans every thing up thoroughly when you both are getting ready to check out, and that she dumps your litter and any other messes in a bin outside of the hotel. It is just common courtesy, and keeps the hotel humans wanting to accommodate pets. Plus, leave a tip — the housekeeping staff does not make a big salary, and it is a nice thing to do.
* * *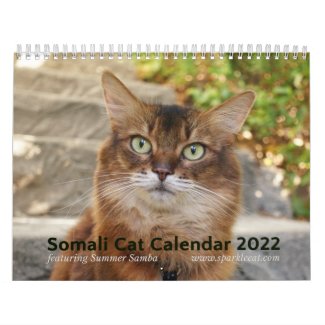 2022 Somali Cat Calendar Starring Summer Samba
See all of Summer's merch at her
her Zazzle Designercat Shop