Sparkle talked a lot about Cat World Domination, and you are probably wondering how a little kitten like me figures into all of that big, important stuff. Well, it's easy! In fact, did you know that Cat World Domination starts early for kitties? In fact, we kittens have a secret weapon that gets the whole Domination thing underway. It is called Kitten Magic, because it works like magic!
A big part of it has to do with our ability to look cute no matter what! For example, see how cute I look after killing this toy mousie? After this, it does not look that bad when I kill — and eat — flies! I get kissed lots even when I have fly breath!
Kittens are born looking innocent and we stay looking innocent for a long time! I think that is why the humans here did not take Binga back to the kill shelter when she decided her most fun game was attacking their faces first thing in the morning — claws out! She was only three months old and when you are that age, everything is forgiven.
We kittens have things that we do that give us instant power over humans! This head tilt pose is one of them! I don't know why it works, but it does every time! In fact, it is so powerful that I'm scared to use it too much. It might do irreparable damage to humans and make them useless when we need them to do important things, like go out and buy us food and cat trees. They get so mesmerized, they might leave and forget how to come back!
Here is another one — the upside down look. Humans go crazy over that! If you have black lips and a little brick-colored nose like me, it works even better.
It is even more potent if you can hide your ears at the same time! Especially if you have very large ears like me. It will make your human putty in your paws.
With all this cuteness, we kittens can get away with a lot! For example, I am not supposed to be on the kitchen counter, but I can go up there any time I want and I don't even get yelled at! When you are a kitten, it is all about "setting precedents." It is so simple for kittens to establish their dominance over humans, and it makes it easier to spread your dominance when you are older. If your human takes lots of kitten photos of you, it is even better, because they will go back to the pictures frequently and get hypnotized all over again.
So do not ever let anyone try to convince you that Kitten Magic is a myth. It is very real, and it is something all kittens have! It's one of our most amazing weapons in our Cat World Domination tool kit!
* * *
---
---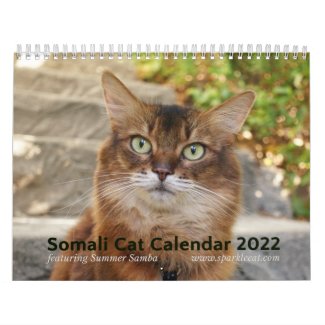 2022 Somali Cat Calendar Starring Summer Samba
See all of Summer's merch at her
her Zazzle Designercat Shop