Because today is National Kitten Day, I'm posting some old, never-before-seen photos of me from last September, when I was still a kitten! I was just about six months old.
Even back then I frequently had my tongue out.
Even though I was already an experienced show kitten, my human had to learn the ropes — I was way more knowledgeable than her! It's hard to believe my Sturdi enclosure was new back then. It's gotten loads of use in the past 10 months!
I had my first big outing that month too, to the L.A. Feline Film Festival! I hope I go again this year.
I hope you celebrate National Kitten Day too by posting kitten photos of yourselves on Facebook, Pinterest and Twitter, if you are on them! But I also want to mention something a little more serious, and the real reason I wanted you to know about National Kitten Day: kittens are one of the most vulnerable populations in animal shelters. Especially the very young ones — there are never enough volunteers to take care of the babies that are just a few days or a couple of weeks old, who need special attention. In Los Angeles in 2014, 61% of animals killed in shelters were kittens.
Best Friends has been working hard in Los Angeles to make it a no-kill city, but to do that, they will need a second kitten nursery to save thousands more lives. My human has seen the first one, and it is amazing and state of the art, but it's true, they need more room if they are going to undertake so many more kittens. Right now, they have a fun promotion they are running for donations: you get to name one of the kittens you've helped with your donation! Go here to find out more about this Best Friends drive.
Happy National Kitten Day! Is there some way you can help kittens in need in your area?
* * *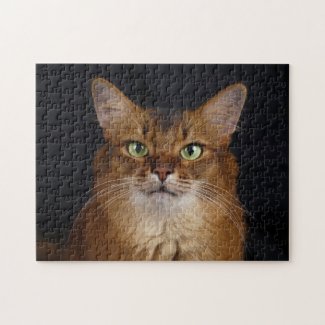 Somali Cat Photo Portrait Jigsaw Puzzle
See all of Summer's merch at her
her Zazzle Designercat Shop