We cats are intelligent, resourceful beings. Although we need companionship from our humans and some recreation, we are independent enough to create our own fun. The problem is when a cat's basic need for stimulation isn't being met. Then we may wind up behaving in ways you humans may find, um, problematic.
The issue is that instead of considering what we cats aren't getting that we need, humans often immediately jump to a "bad cat" mentality. They think our acting out is willfully bad behavior. With cats, you have to look beneath the surface to understand what is really going on. That's why discouragement tactics don't work, or don't last long. The only way to truly change a behavior of your cat's is to change something about the circumstances inspiring it.
A lot of cat misbehavior and quirks stem from boredom. Here are some signs that your cat needs more mental, physical, or even emotional stimulation.
Note: Keep in mind that many of these behaviors may also be caused by illness. So make sure to discuss any of these issues with your veterinarian in addition to anything else you try doing for your cat.
Clawing on Rugs, Furniture or Other Surfaces That Aren't Meant to Be Scratched
This often means that your cat doesn't have an appropriate scratching surface that fits their needs. Scratchers and cat trees not only need to be made of material the cat enjoys scratching, they also need to be built in sturdy shapes they find appealing. In addition, the location is really important. If you've worked on this and the cat is still scratching the sofa, they could be bored and seeking attention. This could especially be true if you got that fancy new scratcher and continued to otherwise pay minimal attention to your cat.
Overgrooming
This could be a medical problem. It could also be caused by stress, especially in a multi-cat family, or by something happening in the home. Your veterinarian can help with these issues, and you should schedule a consultation. But your cat may also be bored if there is not much around the house to keep them busy. It's like a bored teen who sits around playing with their hair or picking at their nails.
Unlike with teens, you can't make your cat get up and do chores. (Okay, I hear it is pretty hard to get teens to do that too.) But look at ways you can make your cat's life more interesting. Maybe set a bird feeder outside your window. Create some play areas. Set up some one-on-one time with your cat.
Bolting Out the Door
If your cat is doing this, they definitely need a more stimulating home situation. Does this mean you should immediately start harness and leash training them? Not necessarily. First you really need to examine your cat's personality, and your personality and commitment to taking them out frequently. If you think bringing your cat outside on a leash will only make them crave the outdoors more, consider inside alternatives that will satisfy your cat's need for adventure. If you have the budget, you might even consider putting up a catio.
Overeating
Yes, just like humans, cats overeat when they are bored. First rule out whether the overeating is being caused by a medical issue (thyroid or other problems). Then come up with some fun activities to get your cat moving. Schedule play or training sessions. If your cat really is something of a foodie, they will especially enjoy training sessions with treat rewards. With training, however, the amount of food is strictly controlled, and only comes when the trick is done properly. Although cats do sleep lots more than humans, they aren't necessarily couch potatoes. We are built to be active!
I hope these have helped remind you that addressing the cause of a cat's behavior makes for a more long-lasting solution! If you've done something to keep boredom at bay for your cat, I'd like to hear all about it in the comments.
Other posts you'll enjoy:
* * *
---
---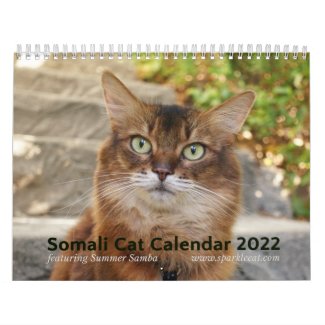 2022 Somali Cat Calendar Starring Summer Samba
See all of Summer's merch at her
her Zazzle Designercat Shop