I didn't want April to end without reminding you it is Prevention of Cruelty to Animals Month. My human and I had a stark reminder about how important this issue is when, earlier this month, a fellow Instagram cat and his family were brutally assaulted in their neighborhood. The cat, Ponzu, died.
The Assault
The case is ongoing, and my human doesn't have the heart to hunt down any video of the event (at least some of which has been turned into the police). But the basic story is that Ponzu was out in the neighborhood with his family, which included his human, Chanan, her boyfriend, and his other animal family members: a parrot named Mango and dog, Tofu. Ponzu was fully leashed trained and friendly. During the assault, which resulted in fatal injuries to Ponzo, Mango was also punched (yes, somebody punched a parrot!), the terrified Tofu's tail got pulled, Chanan was assaulted by three vicious women, and her boyfriend was sucker punched and had to have surgery on his nose. One woman so far has been arrested.
There is currently a GoFundMe to help pay for the legal battle. But none of this will bring Ponzu back, or help Chanan, Mango and Tofu heal from their trauma.
Ponzu's Story Hits Home
Ponzu's story really upset my human because he and I have so much in common. We're both popular internet cats who love to travel, walk on a leash, and enjoy human interaction. We have lots of fans and friends. But not everyone likes cats (or animals in general), and there are some awful people out there. My human is always watching out for me and does everything she can to keep me safe, short of keeping me in a bubble (which would make me unhappy). This kind of attack could happen to anyone. Which is why we must work to overcome animal cruelty.
What Can We Do to Stop Animal Cruelty?
Here are a few ways you can make a difference:
Check the the animal cruelty laws in your area. For the most part, animals are considered personal property, like your furniture or other inanimate belongings. That is slowly starting to change in the U.S., and in the courts, animals are starting to be considered conscious beings whose lives matter. It's starting with custody battles and cruelty cases. But more always needs to be done. Find out what can be done to improve your local animal cruelty laws. We need stronger penalties everywhere.

Help local animals. Report cruelty when you see it to the authorities. Give aid to animals in need. Support spaying and neutering of community cats. Yes, the latter is important in the fight against animal cruelty. Community cats are often targeted by mean people, and controlling colonies makes for fewer cats, and they will be less of a "nuisance" to people who dislike cats.

Teach children to be kind to all animals. The person who is allegedly responsible for Ponzu's death is a 12-year-old child. Respect for animal and human life should be the most important lessons for children, and taught to them from the start. Sadly, there are a lot of awful people out there who have kids and don't teach them this. Be an example in kindness.
Orange is the color to raise awareness about animal cruelty, so my backdrop today is orange. But please, promote kindness to animals every day, no matter the month or color. It's especially important when there is so much hatred in the world already.
Other posts you'll enjoy:
* * *
---
---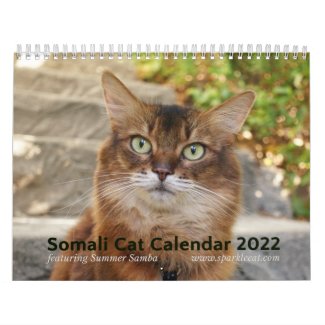 2022 Somali Cat Calendar Starring Summer Samba
See all of Summer's merch at her
her Zazzle Designercat Shop