I got to visit the Sleepypod offices recently, and look at who I met! This is Cleo, and she is the crash test kitty that makes sure the Sleepypod carriers pass the strict criteria the company uses to keep pets safe in transit.
(Disclosure: we received compensation to blog about Sleepypod and Cleo… but we only write about products that we approve of and know will be of interest to our readers.)
I admit, she may not look all that cuddly or cute. But a crash test kitty can't just be any old plush cat. Cleo is 15 lbs., a common size for a cat, and she is weighted so her body reacts realistically in crash testing. Inside, she contains a camera and all sorts of instrumentation to measure things like g-force.
Michael Leung, the company's co-founder and lead product designer says that Cleo is the newest addition to the Sleepypod crash test pet family. The first one was Max, a smaller dog that fit in the carriers. After that came Duke, the larger dog that tests the safety harnesses. Cleo (actually Cleo 3.0) is the most technologically advanced.
Here's the back of Cleo's head. As you can see, you can turn her on and off. My human said she wishes I had a start and stop switch. I didn't think that was funny.
Anyhow, in case you are wondering what kind of criteria Sleepypod uses in their crash tests, you may be surprised. Michael said, "Right now we don't have enough data to see how many pounds of g-force a cat can stand," so in place of that, "We use the amount of g-force that is considered safe for infants." Which makes a lot of sense — if it's safe enough for a baby, it should be safe enough for a cat or small dog.
Cleo participates in testing for Sleepypod several times a year, usually at the University of Michigan or the MGA Research Corporation in Virginia. Because of all her instrumentation, she always has someone from the company accompanying her. "At the lab they have all of their instrumentation that they need to set before the crash run. So we are responsible for our own crash test dogs and cats' electronics," Michael explained.
The testing is very detailed. Michael told my human and me, "We test not only U.S. standards, but also Canadian and European standards." They are all a bit different.
Cleo and her crash test dog partners always try out new additions or changes to the Sleepypod carriers or harnesses. Sometimes it takes several tries to get something right. But it's really important to make sure they are as safe as possible. The Sleepypod offices get reports from people who have been in accidents with their pets that were secured in Sleepypod products — and so far, says Michael, "All of the pets have walked away without any injuries."
So if you have a Sleepypod carrier, you can be sure it is as safe for your cat as it can possibly be, thanks to Cleo! She is my new hero.
If you want to know more about Sleepypod's safety research and tests, you can find the information here.
To check out some testimonials of people who have been through accidents with their pets in Sleepypod's carriers and safety harnesses, you can read them here.
And of course, to find out more about Sleepypod, you can visit their main page.
* * *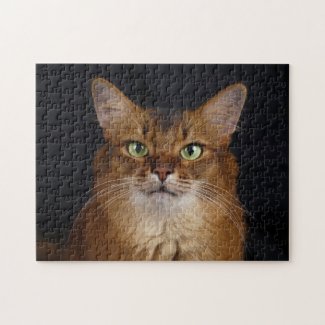 Somali Cat Photo Portrait Jigsaw Puzzle
See all of Summer's merch at her
her Zazzle Designercat Shop