I found out about the Pet Blogger Challenge just a few days ago &dmash; basically you have to answer a few questions about your blog, and actually they are not all that easy to answer! But I wanted to do it because I thought you would enjoy reading a little about me behind the scenes, and how I feel about blogging.
1. How long have you been blogging?
I've only been blogging since August, 2014. But Sparkle, who had the blog before me, started in January, 2003. So this blog has existed for 13 years. That's a long time!
And, for anyone who is visiting for the first time, please give a quick description of the subject of your blog.
It's all about cat life! Mostly fun, but sometimes serious and informative. Sparkle, who was very wise, offered lots of advice (for both cats and the humans who live with them) in addition to journal entries about her life. I do that too, about things I know, but I don't know anywhere near as much as Sparkle did! I do have more adventures because I travel places and go to cat shows, so I write a lot about that now.
2. What is the one thing that you accomplished during 2015, either on your blog or because of it, that made you most proud?
This was my first full year as a cat blogger, and I think the thing that made me most proud was continuing the spirit of Sparkle's blog while adding in my own personality! Sometimes I look back and I'm pretty amazed at how it all worked out.
3. Which of your blog posts was your favorite this year and why?
It's really hard to pick one, because I like a lot of them but none of them really stand out. Maybe my post about my trip to BlogPaws! That was a big event for me in 2015. I also like my post about Feline Facial Expressions for When Your Human Misbehaves. I've been told I always have good expressions!
4. What is one thing you've done in the past year that has brought more traffic to your blog?
My traffic has been pretty consistent over the past year. My human has been working on ways to bring in even more traffic, but she hasn't come up with a real winner. I am going to be doing more personal appearances, and I have a sign now with my blog URL and all my social media that I bring with me to cat shows. For me, I think meeting people will help lots!
5. Which of your blog posts got the most traffic this year? Why do you think it was so popular?
Honestly, the post that got the most traffic was one of Sparkle's from 2013: Seven Things Humans Do That Really Annoy Cats. What can I say? It is a great post, so no wonder it is still getting clicked on! Also it ranks really high on Google. My giveaway posts generally get the most traffic, and other than that, one post drew a lot of traffic, and I have no idea why: it's just me with a piece of paper hanging off my tail! It's kind of embarrassing, really.
6. What is one blog that you read religiously — other than your own — and what makes you such a devoted reader?
I really can't answer that one because there are probably about a hundred blogs I visit every day! Well, maybe not that many, but there are a lot! I just enjoy being part of the cat blogging community in general.
7. What resources do you rely on to enhance your technical, writing, photography, social media, or other skills that improve your blog?
My human uses Google a lot for all that! If she has a question, she does research. She also has a monthly subscription to Lynda.com because she is always working on making her Adobe skills better (meaning Photoshop, InDesign and Illustrator).
8. What is the best piece of advice you can offer other bloggers?
Do it because you love it — because to be successful, you need to be consistent, and if you aren't loving it, why do you want to keep going back and doing it? Be part of a community, both in the blogging world and on social media. I don't know why anyone would want to blog in a vacuum. The community has been the best part — and meeting lots of the bloggers and Instagram humans in person at BlogPaws and at cat shows has been great.
9. What is your vision for your blog in 2016? Do you have specific goals?
I am hoping to pass my evaluation as a therapy cat in the spring, and if I do, I will be writing lots about that. I really want to encourage people to consider giving their cats new experiences — taking them out on harnesses and leashes, teaching them to do tricks, and doing things that people normally don't think cats can do. I am exceptionally outgoing, but I don't think I'm all that unique. Heck, my roommate Binga is 15-1/2 and she learned to walk on a leash with no problem!
10. You have the attention of the pet blogging community — is there one blogging challenge you'd like help with, or one aspect of your blog that you'd like input on?
Not really! Although sometimes I'd like help with Binga… she can get out of control.
* * *
---
---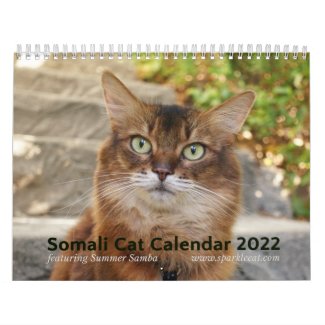 2022 Somali Cat Calendar Starring Summer Samba
See all of Summer's merch at her
her Zazzle Designercat Shop