Once again, I'm exploring the strange things humans do, and pointing out their feline equivalent to help us kitties better understand these behaviors! Today I look at territorial marking — or what humans call "property ownership."
We cats are pretty straightforward and uncomplicated about marking our territory — if it can be rubbed against, scratched or peed on, it's ours. Humans, on the other hand, turn it into a big production number. Let me explain some of the ways humans mark territory:
With a big stack of papers full of writing that nobody understands that gets signed and put away and never looked at again. These are called contracts. If the territorial marking is temporary (i.e., "renting"), the stack of paper is much smaller. If the territorial marking is for a longer period of time ("purchase"), it involves lots of paperwork, inspections and something called "escrow."
An interesting thing about the purchase version of territorial marking — the territory usually doesn't totally belong to the humans who signed the contract. It actually belongs to something known as a bank, which is a big building with money. The humans living in the house have to keep feeding money to this building, or else the building will make them leave.
Humans also mark territory by building fences. Some fences are made of wood, others are made of metal, and still others are made out of stone. These fences are usually pretty good at keeping other humans out, but they are lousy at keeping out other cats.
Humans mark their cars with a little slip of paper with their name printed on it. They hide this paper somewhere inside the car and just assume that other humans know it is there. Some humans also mark their cars by leaving discarded cups and paper bags lying around inside the car, or sometimes a little statue.
Humans don't have glands to leave scent, and their fingernails are too weak to scratch well, and for some weird reason, they have an issue with peeing on the things that belong to them. So they will often mark their smaller items by writing their names on them. Sometimes, like with suitcases, they will write their names on tags that attach to the item. Humans believe that doing this will keep other humans from taking these items.
The weirdest thing of all is that humans often have their things lying all over the place with no markings whatsoever and just trust that no one will claim them as theirs. Even weirder, it often works! Most humans don't take other humans' things. They may not know who it belongs to because they can't ID it by smell, but they do know it does not belong to them, so they will just leave it be. Which makes you wonder at all the paperwork and escrow stuff that goes with marking land and houses.
We cats definitely have an easier time with territorial marking than humans do! How about your humans — are there any quirky things they do to mark their territory?
* * *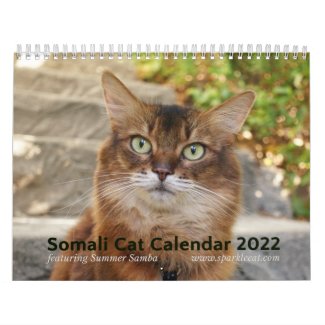 2022 Somali Cat Calendar Starring Summer Samba
See all of Summer's merch at her
her Zazzle Designercat Shop