I am about to divulge the biggest secret of all kitty-kind. It is the answer that you humans have been seeking since time immemorial. Because if I know you humans and you kitties, I'll wager that the latter rarely seems to do what the former wants. In fact, when a cat does do what a human wants, it is usually so surprising to the human that it gives them a rush of pleasure. Before I go on, I do want to point out that if you follow what I am about to tell you, you risk losing that special rush. So if you would rather have fleeting moments of extreme ecstasy (wedged between deep valleys of frustration) instead of a lower-grade, all-the-time bliss, then you may want to skip this blog post.
Still here? I figured you would be. You humans are too curious for your own good. But still, I am ready to reveal the big truth of making your cat do what you want, every time, all the time. It will change your life, and I am serious about that. Ready? Here it is:
To make a cat do what you want, you must want exactly what your cat wants.
When you enjoin your heart's desire with your cat's desire, only then will your cat do exactly what you want her to do. Because cats will only ever do what they want to do. And the only way you humans can make that work for you all the time is to want the same thing.
So does your cat want treats? Give him treats. Does she want to counter surf? You want her to do that too. Do your kittens want to turn your linen curtains into beautiful strands of handmade lace? Appreciate this gift!
The path to eternal happiness with your kitties is very simple. But it is not a path everyone can make. Kitties, do you think your human is up to this spiritual challenge? Or do they lack the serenity and mental discipline to accomplish this journey of feline discovery?
* * *
---
---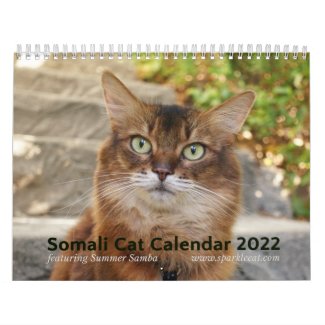 2022 Somali Cat Calendar Starring Summer Samba
See all of Summer's merch at her
her Zazzle Designercat Shop