On Cat World Domination Day, somekitty asked for the recipe for the Tuna Catnip Kitty Cookies, and I'm sure there are more of you who are interested. It's actually a very, very easy recipe! So easy, my human could make it without whining about all the time it was taking — because it took practically no time to make the dough. She originally found the recipe at Joy the Baker, so you can download the recipe from there.
It requires only five ingredients, and you can see four of them here because my human forgot to pull out the egg before having me pose. She made oat flour out of the old-fashioned oats by using a very clean coffee/ spice grinder. You do not want any coffee flavor on these whatsoever! In fact, the grinder she used is not for coffee at all. So she used a cup of oat flour, a 5-ounce can of no-salt-added tuna in water (drained), the unseen egg, a tablespoon of olive oil and a tablespoon of good quality catnip. As you can see, we used some of our nip from the Natural Pet Company.
Here are all the ingredients in the mixing bowl. I offered to mix them up myself but my human said it was too much work for me.
The original recipe called for a food processor, but my human was too lazy to drag ours out of the cupboard and assemble the pieces, so she just used a hand mixer. Yes that is a wooden cat towel holder you see on the left.
I gave the cookie dough my paw of approval, even though my human veered from the recipe. I was kind of ticked off that she would not let me have any of the cookie dough.
She did let me have tastes off the beater, though.
She used a half teaspoon measure to make the cookie balls, then flattened them out with toothpicks. I made sure they were spaced out evenly on the parchment paper. Did you know that parchment paper is the secret to making evenly baked cookies? They don't burn on the bottom this way! My human put them in a preheated 350 degree oven for about 10 to 12 minutes, just until they were slightly browned and felt dry on top. She let them cool somewhere I could not reach them.
As you can see, they were a big hit here! They should be stored in an airtight container in the refrigerator and eaten within seven days. It does not look like there was much dough, but since the cookies are cat sized, the recipe made nearly 100! So if you make these cookies, make sure you share them with your kitty friends, or with a local cat rescue.
* * *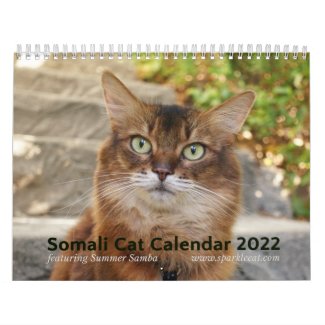 2022 Somali Cat Calendar Starring Summer Samba
See all of Summer's merch at her
her Zazzle Designercat Shop