Is your cat your little companion? Does she follow you around the house? If she doesn't, would you like her to? Because there's nothing like having a cat close by, quietly letting you know she is there for you. So let's see how to get your cat to follow you around.
If your cat isn't already your little shadow, you will want to build a relationship with her that makes her want to follow you. She needs to feel a bond with you. If her main connections with you are at mealtime and when you're telling her to get off the kitchen counter, you guys need some quality time! Pull out some toys and/ or treats and get on the floor with her.
Making New Routines With Your Cat
Creating playtime or treat routines (or both) builds pleasant associations with your cat — for both of you, really. It only takes a few minutes a day. And from there, you can get your cat to want to spend more time with you.
Once you have established some pleasant associations with your cat, you can start to encourage her to follow you from room to room. If she is treat motivated, sit or stand a few feet away from her and hold out her very favorite treats — something that smells especially tempting. Let her walk over to you to get the treat. You can repeat this and have her follow you across the room, or even into a new room. (Incidentally, this is also a good way to train your cat to come when called — always a valuable skill!)
If your cat is toy motivated, use a fishing pole-style toy, with the cat toy on a string attached to a wand. Hold the wand and let the toy drag around on the floor while your cat pounces and tries to catch it. Then start walking around with the toy dragging behind you. Many cats will really enjoy this game and they will eagerly follow you from room to room.
From Routine to Habit for Your Cat
If you make a routine of these little activities, your cat will come to expect them. Don't be surprised if she starts following you around on her own. When she does this, reward her with whatever pleases her — praise, petting, a treat. Eventually she will grow used to following you around.
You know that this has become a habit for her when you aren't even even thinking about her, and find her in the room with you. This is more than a cute trick. It means you've forged a stronger bond with your cat and she is closer to you than she was before.
Does your cat follow you around the house? Or do you plan on having her do more of it? Let me know in the comments.
Other posts you'll enjoy:
* * *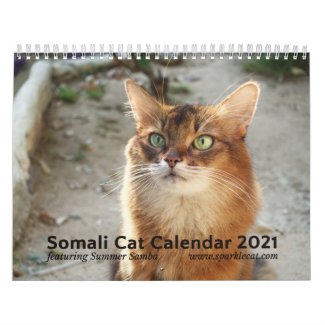 2021 Somali Cat Wall Calendar, Starring Summer
See all of Summer's merch at her
her Zazzle Designercat Shop