If you look at Facebook on a mobile app, chances are you've been missing my Page, and a lot of other Pages you chose to follow! The reason is that Facebook has hidden pages on mobile… but they've hidden them in plain sight. You just need to know where to look. I'll show you so you can find me again.
Since we have an iPhone here, I'll show you how it looks there. I'm assuming other mobile devices will be similar. Let me know if they're not!
When you visit the Facebook app, you probably see something like this at first.
But when you start scrolling, if you look up top there is a very small menu bar, with three sections: Home, Favorites, and Recent. Under Home, you'll mainly see your friends and groups that you frequently interact with, interspersed with a lot of ads. Unless you have a very small friends list, it's likely you will rarely see Pages at all. My human doesn't even see my own Page!
They are hiding under Favorites! Tap there, and you will magically see those Pages you followed and marked as favorites! If you want to know how to do that, here are the instructions.
So if you want to see me in your Facebook app (and other Pages you like) without having to search for me every time, make sure I'm one of your favorite Pages, and then look for me here! Also, clicking on reactions, commenting on my Facebook posts, and sharing them will tell Facebook you want to continue seeing me. Most helpful to me are clicking through to my blog posts.
Let me know in the comments if this change surprised you, or if it is different on other mobile devices!
* * *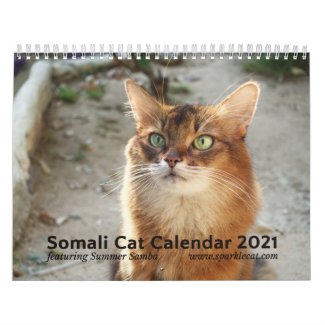 2021 Somali Cat Wall Calendar, Starring Summer
See all of Summer's merch at her
her Zazzle Designercat Shop