Cats and humans who serve in the armed forces have a very special relationship. Other than the mousers onboard ships, we cats usually don't have specific duties to perform like dogs or horses do. But we are very important nevertheless. So very many of these humans find themselves in horrible situations that damage them not only physically but mentally. And more often than you might guess (because it is often against regulations), cats have shown up to help soldiers through stressful times, and to remind them of their inherent humanity. Here is a short video that tells of one such story of a cat and a soldier — and the amazing efforts taken by the soldier, and a key helper, to get the kitty to the States:
If you can't see the above video, click here to watch it on YouTube.
Not only do humans in the Armed forces receive healing from cats, we cats also receive help from them. Not always in a foreign land either. The sergeant below is rescuing a cat during the aftermath of Hurricane Katrina.
The members of our armed forces put their lives at risk, not only at war, but also at home, and we should honor them year round and thank them for their service.
* * *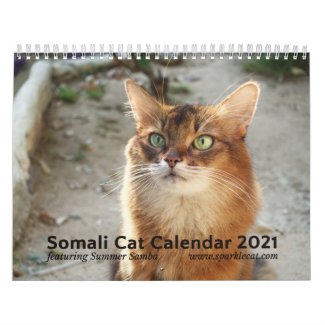 2021 Somali Cat Wall Calendar, Starring Summer
See all of Summer's merch at her
her Zazzle Designercat Shop