Today I am going to tell you about something I have been very passionate about for a very, very long time, but have not spoken about until today. Do you know that sitting on the shelves at your local drugstores, Walmarts and other low-budget retail stores, there are cheap flea products that have harmed and even killed cats and dogs? Why these poisonous products are still being sold is anyone's guess because for many years, there has been a grass roots effort to get them banned. People have even traveled to the Environmental Protection Agency's offices to complain about these products, but so far, they are still available.
Why haven't I written about this battle? Because in spite of all the efforts to get rid of these dangerous, pesticide-laden flea products, there hasn't been a dedicated movement working hard to come up with an alternative — something that didn't use toxic ingredients, including natural ones, or essential oils that aren't good for us cats (we are especially sensitive to these). I didn't want to just post photos of cats suffering the ill effects of these products when I had no answer. But finally someone — who has been directly impacted by dangerous over-the-counter flea products — is doing something great to come up with alternatives.
Meet Tiny Timmy… and his human.
Tiny Timmy was rescued from people that dosed him with one of these awful flea medications. He almost did not survive, but with a lot of care and a lot of love, he lived. Not unscathed, however. Timmy is permanently neurologically damaged from his encounter with the flea medicine. This does not stop him from enjoying life and being a happy kitty, but imagine what his life might have been like if this had not happened to him in the first place. You can read all of Timmy's story here.
Timmy's human decided it was time to take matters into her own hands and come up with an anti-flea product that would kill fleas, but not harm cats, dogs, or the children who might want to cuddle or play with them. Her first product is called Dirty Flea Soap, and in addition to getting rid of fleas naturally, it's also good for the skin problems that come with flea infestation: dry, itchy skin, hot spots and the like. This rich soap is gluten-free, sustainable and has no GMOs. It is a wonderful product… but it is just the beginning!
Tiny Timmy's human currently has an Indiegogo campaign to broaden her vision. At first, all she wanted was to sell enough bars of this soap to be able to donate some to rescues. Well, it was very successful — over 1,000 bars got donated! But now it's time to turn this effort into a real business, with all the paperwork that requires. Plus, she wants to improve the base soap recipe to make it even more environmentally friendly. She also wants to create new products, such as a spray and liquid soap. All this requires money, hence the Indiegogo campaign. Here is the video for the campaign:
If you can't see the above video, you can see it on their Indiegogo page.
The good news is that so far Tiny Timmy and his human have raised over $3,000! The bad news is that their goal is $8,900 — and there are only 6 days before the end of their campaign. With Indiegogo, they will get the money, even if they don't reach their goal… but Indiegogo takes a significantly bigger percentage of the money if the campaign falls short! So can you please spread the word about this very worthy effort everywhere you can? And if you can afford to, chip in some money — there are many different levels and some really great perks! I want to see Timmy hit and maybe even surpass his goal!
Visit Timmy's Indiegogo campaign here to find out all the details — and contribute!
Just to let you know, neither Timmy nor his human asked me to post about their Indiegogo campaign. In fact, I don't even know them and they didn't know I was posting about it. I just want to help them because I really believe in what they are doing.
* * *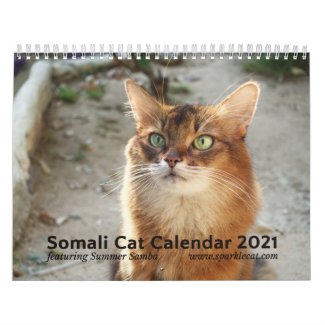 2021 Somali Cat Wall Calendar, Starring Summer
See all of Summer's merch at her
her Zazzle Designercat Shop