I found out earlier from the Random Felines blog that one of the foster families in their area had a devastating fire and many of the kitties living there and looking for homes perished! Here is a news item with some details about this tragedy. The human whose house this was, Joyce, is an awesome woman who has helped so many kitties and is much loved by the other people at Colony Cats (& Dogs), the Columbus, OH-based rescue she is associated with.
So far, the rescue has estimated that they lost 12 kitties. Nine cats are being treated for smoke inhalation. Sixteen cats in all have been caught, but there are still some frightened kitties that are loose.
This is a terrible blow to Colony Cats, and especially awful for Joyce. If you can help donate any amount of funds, that would be awesome — you can find the donation link at the upper lefthand side of the Colony Cats website. If you want, you can specify that the money is for Joyce's kitties. And if you live near the Columbus, OH area, please consider donating food or supplies in person, or volunteering. Let's pull together and help Joyce and Colony Cats recover from this heart-breaking event.
* * *
---
---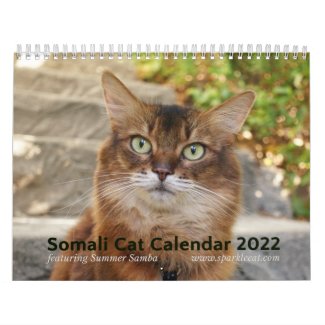 2022 Somali Cat Calendar Starring Summer Samba
See all of Summer's merch at her
her Zazzle Designercat Shop