I'm not sure what happened to the Egypt that worshipped us cats several thousand years ago, but it is quite a different place now, where not as much value is put on either human or animal life as in antiquity. Maybe out of the current crisis there, something positive will happen to change that, but in the meantime there are animals in Egypt that need your help. I am not talking about just cats or personal pets, but animals on a much larger scale. With banks closed and a chaotic situation, the rescue group ESMA (Egyptian Society for Mercy to Animals) has taken over feedings at the Giza Zoo. Horses, camels and donkeys are working animals in this country, and many are suffering because of the unrest. Pet stores have been shuttered, and it is hard to get to the animals to feed them. Humans who want to get out of Egypt are often not able to take their pets with them. So the problems there are complex.
How do I know all this? My human belongs to an organization of professional cat writers and one of its members, Heike Hagenguth, lives in Cairo. She has been spreading the word for those who don't speak. Plus Best Friends has a networking and news section for Egypt. Here is their recent news item about evacuees and their pets.
Heike mentioned several groups that could use financial aid from foreign sources, since help inside Egypt is hard to come by right now. They are:
ESMA — Egyptian Society for Mercy to Animals — the organization that is helping the animals at the Giza Zoo. They are also doing a lot of things on a day to day level for animals. They also have a Facebook page.
SPARE — Society for the Protection of Animal Rights in Egypt — they also have a Facebook group.
The Brooke — they help donkeys, horses and mules in eleven countries in Asia, Africa, Central America and the Middle East, including Egypt.
Egyptian Mau Rescue — these are the original cats worshipped by the pharohs and even in peaceful times, they are poorly treated in their own country. This organization especially needs your help now.
* * *
---
---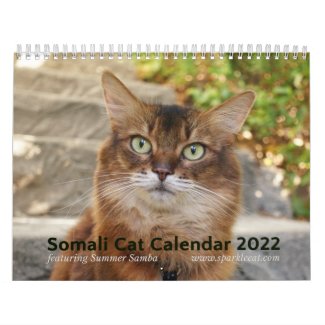 2022 Somali Cat Calendar Starring Summer Samba
See all of Summer's merch at her
her Zazzle Designercat Shop