I don't know how this passed by me, but I just recently heard that September is "Happy Cat Month." And in an effort to ensure our happiness this month, the CATalyst Council has listed the top 10 ways humans can keep their cats happy. Let me tell you, I looked at the list and if my human did the majority of those things to me this month, I would most certainly not be happy! True, they are important to our overall health and wellbeing in general, and the CATalyst Council has our best interests at heart, but many of these suggestions are just not fun for us kitties! So let me modify their list a little. Humans, listen to my wise words and take note:
"Visit the veterinarian," says the CATalyst Council. No way, I say — at least not in September. Vet visits are not happy times! Unless there is a pressing reason, like if your cat is injured or suddenly gets sick or is dealing with some sort of chronic condition, do not take your cat to the vet this month! Schedule it for August or October. If you want us to be happy in September, let us stay home.
The CATalyst Council thinks you should "microchip your cat" this month. Nope, you should have done that before September! Supposedly microchipping is not that big a deal. I say have you seen that huge needle they stick between our shoulder blades? And don't forget how small we are compared to you humans, so that needle is even bigger to us. It's really not fun. Plus it generally involves a trip to the vet. Of course we should be microchipped, but if you want us to be happy in September, can you choose another month in which to do it?
"Go outside," urges the CATalyst Council — only make sure we are in strollers or safe enclosures, or on leashes and harnesses. This is not a bad idea (well, maybe except for the leash part), except that getting us acclimated to these things is not all that much fun. In fact, for a kitty like me who gets very nervous outside of the house, it can be traumatic and it will take a lot of patience before it might turn into a happy experience for me. So If you want to make your cat happy this month by taking her outside, then get her used to the stroller or enclosure or (gah!) harness well beforehand.
I'll directly quote the CATalyst Council on this one because I do agree with this: "Scratch the surface. Cats should have places they are allowed to stretch and care for their claws. Scratching is an important aspect of feline behavior. Providing a long and sturdy scratching post in a vertical, horizontal or angled position is a good way to keep your cat happy… and your sofa, too!" So yes, buy your cats lots of cool, sturdy scratching surfaces and cat trees this month. This gets my paw of approval!
"Provide preventative medications," advises the CATalyst Council — meaning flea and heartworm meds. They mention that even indoor cats can get parasites, and this is actually true; I got fleas a couple of times and I never go outdoors. (I blame the dog.) But this is another unpleasant thing that should be taken care of earlier in the year, if you want to guarantee that us kitties have a happy (and itch free) September.
"Train together" — this is an idea that the CATalyst Council has gotten a bit twisted around. They think humans should train cats, but we cats all know it is the other way around. If you want to make your cat happy, let him train you! I think it will make you happy too. I taught my human to play fetch — she tosses my toys and then fetches them when I am done playing with them. And I never hear her complain. Much.
"Work for food" is another wacky suggestion from the CATalyst Council. They believe that using treat toys to get overweight cats to exercise will help them drop their flab. Yeah, maybe it will, but maybe it will also frustrate them, plus they will be hungry. That does not sound like a happy experience to me. How about feeding your cats a high quality, high protein, portion controlled diet to begin with to keep weight gain at a minimum? A happy cat is not a dieting cat. You humans should know about that sort of thing from your own experiences.
"Get your cat acclimated to the carrier" — oh come on, CATalyst Council! If you really want us to be happy this month, do not get that carrier anywhere near us! This is another thing you should do during August. I just thought of something — it sounds like August is quickly becoming the unhappiest month of the year. We will need September just to recover from it!
This one is spot on: "Provide prey toys." Thank you, CATalyst Council, for acknowledging how much we cats like to hunt. In fact, if you humans want to make us even happier, get us some actual prey! Bring home a mouse or a grasshopper and let it loose in the house so we can hunt it down and kill it. If you are lucky, we may even present the carcass to you as a gift.
"Think about getting another cat." The CATalyst Council has a point here. Many cats enjoy having roommates to keep them company, and to commiserate with when their humans do something especially dumb. But actually getting another cat can be stressful, and that is not happy-making. So thinking about getting another cat is a great idea — just don't act on it until October.
* * *
---
---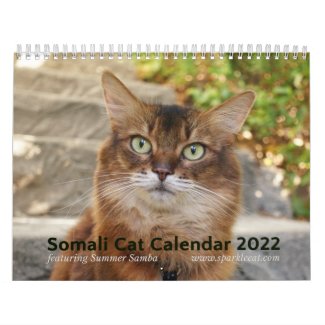 2022 Somali Cat Calendar Starring Summer Samba
See all of Summer's merch at her
her Zazzle Designercat Shop