If you get my blog posts by email, that means you have been getting them from a Google service called Feedburner. But there is a problem. The Feedburner service has become a little erratic and some of you are not getting these emails every time, and some of you are not getting them at all. My human wanted to have more control over these emails, so we are switching most of you over to a different email service called MailChimp. Because we can only afford the free service, which only includes a certain number of monthly emails, the emails with the links to my blog posts will only appear weekly, at least for now.
Please make sure my email, summer AT sparklecat DOT com, is on your white list so you will receive the emails without a problem. You can subscribe and unsubscribe at any time.
If you would like to receive my blog post emails every week, and you don't already, there is a form to your right that says, "GET SUMMER'S WEEKLY BLOG POST UPDATES!" Just fill it out and you will start getting them.
My human will be transferring over your email addresses today, and you will start getting these weekly emails tomorrow (Tuesday) instead of the daily Feedburner ones. If you would rather keep the Feedburner emails, however, let me know! If you are reading this on my website, then comment below, and use the email you subscribed with when you fill out the comment form. If you are reading this by email, drop me a line at summer AT sparklecat DOT com and let me know you want to stay with Feedburner. I want to make sure everyone is getting the emails they want from me, no more and no less!
My newsletter will going on like it always, coming out monthly, and sometimes a special giveaway blast. In fact I will be having one of those blasts very soon! So keep posted.
* * *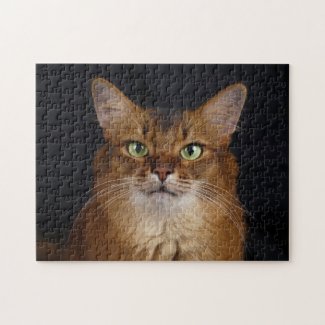 Somali Cat Photo Portrait Jigsaw Puzzle
See all of Summer's merch at her
her Zazzle Designercat Shop