Binga is going to be 15 later this year, and you know what that means, right? It means, according to the vet humans, that she goes from being a senior cat to a geriatric cat! So she will officially be older than dirt!
Binga does not think she is old, but maybe she is in denial. There are certain signs of being a geriatric cat. Let's see how many fit her!
Geriatric cats dress funny and don't even realize they are embarrassing their friends! You remember the photo shoot the above picture came from, right?
Geriatric cats often suffer from arthritis and decreased mobility. In fact, my human even got a flyer from the vet clinic about getting this checked, with Binga's name added by a computer! I guess they did not see our cat tree wars.
Geriatric cats can develop dental disease. Well, she lost a couple of teeth during a dental cleaning a couple of years ago, but at her latest annual checkup, the vet said that overall, her teeth are okay.
Geriatric cats can have decreased lung capacity. When I hear Binga meowing nonstop at dinner and treat times, her lungs sound pretty durable to me.
Geriatric cats often decrease their activity level. From what I gather, Binga's activity level has increased since I came to live here!
Geriatric cats can become senile, just like some humans do. I thought there might be some truth to this one, but my human tells me she has always behaved like this.
So what do you think? Is Binga headed for the rocking chair and a quiet retirement?
* * *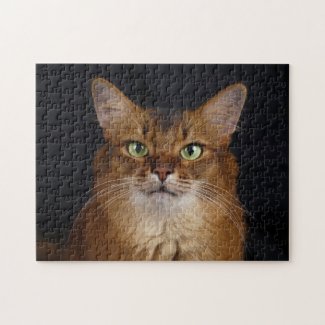 Somali Cat Photo Portrait Jigsaw Puzzle
See all of Summer's merch at her
her Zazzle Designercat Shop