It didn't take long for me to figure out the perfect Furminator contest! And you squeamish humans will be happy to know that it does not involve cats hacking up hairballs, or you guys having to take pictures of them! My apologies if any of you have already shot photos of your cats' hairballs — maybe you can post them on your own blog or Facebook account so everyone you know can enjoy them.
My contest is a very simple one, although it did take some effort on my human's part. It required her to Furminate Boodie. Your job is to guess how big the pile is!
This is the first time Boodie has been Furminated since the weather started warming up, so she made a pretty large pile of fur.
Here's a close up of the fur. I'm not sure if this will help you or not.
But I do want you to know that I thoroughly examined the fur pile myself to make sure 1) it was all actual fur and 2) it was all Boodie's fur and no one else's. I wanted to make this contest 100% official.
Then my human brought out a tape measure. I checked that out too, to make sure there were no tricks afoot.
We decided to make it easy on you and just measure it from one end to the other. No circumference, no having to guess how high it is. Just guess the measurement of the fur pile from one end to the other.
Here are the contest rules:
You must give your guess as a comment to this post. That's so you can see if someone else has already guessed the number. If they have, you have to pick a different number. There will be no ties, and only one winner.
You must guess a number in inches, or feet and inches. No centimeters, no "tail lengths" or "paw widths." This is for consistency's sake. You can use fractions of an inch.
Only one guess per email account. That means if you guess again, it won't count. We will only use your first guess.
Here's a fun bonus: if you become a member of my fan club by registering here at my blog, you will get a little something extra in addition to the Furminator! The cool thing about registering is it gives you access to parts of my blog that non-registered readers don't, such as the link to my monthly downloadable PDF calendar! To register, just look at the top of my page, where it says, "Fan Club." There's a drop-down link that says "Join." Or you can click here to get to the registration page. You don't need to be a member to enter the contest, but non-members won't get the small bonus.
The one who guesses the closest to the actual width of the fur pile wins a brand new Furminator, courtesy of the Furminator humans! You have until April 29 to guess. I will announce the winner on April 30, which is National Hairball Awareness Day!
Good luck!
* * *
---
---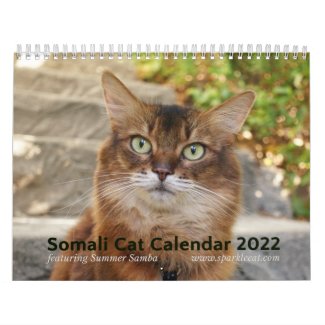 2022 Somali Cat Calendar Starring Summer Samba
See all of Summer's merch at her
her Zazzle Designercat Shop