In the notes she left, Sparkle said that a lot of problems that cats have really come from human misunderstanding. She sure was right about that, but I've also noticed that sometimes cats misunderstand humans too, and that can cause unnecessary stress and confusion. So I've compiled a list of human facts that you may not know! I hope this helps you understand human behavior better.
1. Humans thrive on routine!
I know that humans are always saying how much we kitties need routine, and that is true… but humans appreciate it just as much! Except they don't call it "routine" because they think that is a boring word. Instead they use a different word for routine to make it sound special, and even kind of mystical: ritual. Rituals, like the way a kitty sits next to her humans when they are watching TV, or curls up under the covers at bedtime during the winter are routines, or rituals, they look forward to. And they even treasure the routines they say they hate, like when you wake them up an hour ahead of time for breakfast. Try not doing that for a few days and they start to worry that you are sick! Routines, rituals, whatever they want to call it — humans use them to make sure all is right with the world.
2. For humans, complaining and bragging are sometimes one in the same!
Case in point: Binga misbehaves a lot and my human's boyfriend often complains about the things she does. But sometimes it sounds more like he is bragging about her ability to steal the dog's food or jump on the kitchen counter than making a legitimate complaint. So when your human spends a lot of time focusing on something supposedly bad that you are doing, it is possible that they are secretly proud of you!
3. Humans live in a world of make-believe!
This is true of even the most grounded humans. They act like the calories from the popcorn they eat in front of the TV don't count. They think if they ignore that annoying chore they don't want to do, it will magically take care of itself. They think we will stop scratching the couch just because they say no. Maybe some of this sounds like laziness, but it goes a lot deeper. Humans like to avoid unpleasant truths, and they think that if they pretend they don't exist, they will go away. And of course, life does not work that way. It's a big weak spot of theirs, and it causes them a lot of grief.
4. Humans are actually very fragile, both physically and emotionally!
We kitties can leap off of refrigerators and bookcases with ease, but if humans were to try it, they would break! They have no protective fur, so when they trip over themselves and fall on pavement (another thing that never happens to us cats), their skin gets all torn up. And while we cats prefer to suffer in silence when we are ill, humans usually make a big deal out of it, so it must mean that their illnesses hurt a lot worse than ours do. And they are just as fragile emotionally, if not more — sometimes the slightest criticism, even if meant well, can injure their feelings and make them depressed. If someone they care about forgets a birthday or anniversary, it is very painful for them. So when really big events happen, like natural disasters or death, it must be almost unbearable. It is very important for us kitties to remember this, because humans need our healing energy when they are in pain. It is one of our most important duties when we are living with humans, and one of the reasons they rely on us so much.
* * *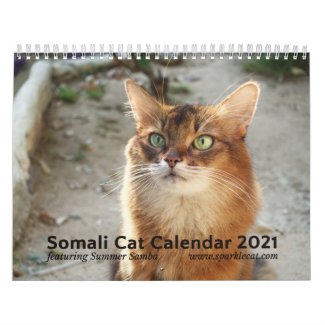 2021 Somali Cat Wall Calendar, Starring Summer
See all of Summer's merch at her
her Zazzle Designercat Shop